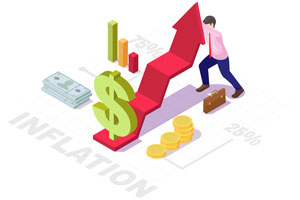 by Charlie Casey
Inflationary concerns are growing across the globe. The cost of just about every product and service is at their highest level since 1981, and the ripple effect on businesses is that sales are slowing as consumers look for ways to cut back on spending and make do with less. Properly executed loyalty programs can help keep customers shopping, even in the face of wavering consumer confidence.
When thinking of the different ways loyalty programs can inspire repeat customers to continue shopping, it is important to note that some businesses are, more or less, inflation proof. For instance, candy and comfort food typically increase in popularity when economic times get tough. The United States' consumption of candy increased sharply during the economic downturn that began in 2008. Cadbury's profits went up 30 percent in 2008, Nestle saw an 11 percent growth that year, and The Hershey Company's overall sales increased five percent a year from 2008 to 2010 during the worst part of the recession. Other businesses such as grocery stores, information technology, and even funeral services are historically not affected in terms of loss of customers during inflationary times.
But what about stores that are not inflation proof, such as clothing, automobiles, and so many others? Some of the best known brands are adapting their strategies to acknowledge and react to the cost of living crisis. For instance, Lululemon is thinking out of the box, acknowledging the economic climate and allowing customers to remain engaged with the brand by trading in or reselling gently used clothing. This is some advice for brands on how to do the same:
Check the Inventory
Retailers constantly evaluate their stock, refreshing and adding what is needed and selling. Today, those stores and brands should look at their inventory with an eye to what is most essential — i.e. the products that consumers are most likely to continue purchasing. Loyalty programs can be tied to these items to make them more tempting for consumers, and to ensure they come back to make future purchases. Providing more bonus points for specific products before the transaction can help secure the next purchase sooner. Stores that offer their loyalty program members additional free gift rewards when they purchase less are also more likely to see those shoppers return to treat themselves, replenishing that item in a full size when they feel it is time for a treat.
Mother's Day is Recession Proof
Even if shoppers are counting their cash more than they were a year ago, special occasions will continue to be celebrated and gifts will continue to be given. A great way to maximize the impact a loyalty program can have on a business is by associating promotions with significant shopping holidays like Valentine's Day, Mother's Day, Father's Day, and Christmas. Shoppers will be buying gifts for these occasions, so a great way to keep loyalty program members coming back is to plan loyalty promotions to coincide with these holidays. Whether these promotions take the form of double or triple points or early access to sales, loyalty program members will feel special and see the benefit of returning to shop at a time when their purchase is guaranteed.
No Regrets Allowed
In times of recession, shoppers are more likely to return products that are not what they expect or push the limits of their budgets. These returns can be reduced via loyalty programs. By only offering free returns to top-tier program members rather than to all shoppers, businesses can diminish the amount of returns. This not only discourages non-members from buying and returning, helping to maintain the sales that have already taken place, but it also makes the most valuable shoppers feel special, making it more likely that they will return to shop again.
Email Campaigns
The at-risk customer segment is one that brands need to keep a close eye on during a cost of living crisis, as it will undoubtedly increase as shoppers leave a longer time frame between purchases. Keeping the most at-risk shoppers engaged with a brand, even when they are not purchasing, will help lead them back to buy when they feel more monetarily secure.
Running email and SMS campaigns to loyalty program members reminding them that they can earn points in ways outside of spending can be very effective for customer retention. For example, request that program members follow and share your social media content or encourage them to share personal information such as a birthday, and then reward them for this behavior. This way, at-risk customers continue to build up points and will be likely to return and redeem the points on a purchase. Another effective strategy to retain at-risk loyalty program members is to surprise them with additional points, unlocking a reward that they can then return to redeem immediately.
Giving thought to how brands, through their loyalty programs, can do more for their participants is the path to success as shoppers reevaluate their spending priorities.
Charlie Casey is the CEO and Co-Founder of LoyaltyLion, a data-driven loyalty and engagement platform that powers ecommerce growth. Proven to increase retention and spend, LoyaltyLion is trusted by thousands of fast-growth ecommerce merchants worldwide. Prior to founding LoyaltyLion, Charlie joined the Foreign and Commonwealth Office as an Economics Advisor before becoming a consultant at Deloitte.