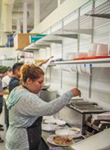 By Harry Dziedzic
As most retailers know, becoming an integral part of your local community is incredibly important for your success. Working with other local businesses creates trust, inspires collaboration, and makes people that much more willing to support what you have to offer.
Community is what binds us together, and this is as true in Seattle as it is in Columbus or New York. Despite coming from different backgrounds, being involved in different businesses, and having different interests, we are all members of a local community. As businesses, we depend on that community to succeed. This is why it's so important for retailers to take active steps to rally their local communities in order to build support for their brand.
Below are three tips that have worked wonders for us at Harried & Hungry and are easy for any retailer to implement. The following steps don't require initial investment and can show quick results.
First, take pride in your surroundings.
This may sound obvious, but make sure your storefront is always clean and that customers feel safe and welcome. Believe it or not, this can sometimes be overlooked. People often judge a neighborhood by how clean and put-together the front of a store is, so it's best to start here. And this not only helps your store but also benefits the other stores nearby and contributes to an overall improvement of the area. Make your customers feel at home. If they can look at your store and see that you take pride in what you have to offer, they will also have pride that you are a part of their community. This often doesn't take a lot of expensive remodeling either; a simple paint job, some new flowers or even some basic redecorating can work wonders.
Second, remember to give back.
This is also something that is often simple to do, yet frequently gets pushed to the back of the line when faced with the constant hustle and bustle. If you are a food retailer, think about how you can donate products that didn't sell, yet are still of quality to eat. Make a point to add this to your weekly routine and create relationships with local food banks and shelters. If you are in a different business, try hosting a special once per quarter where a certain percentage of select items will be donated to a charity that is active in your community. In our experience, customers have seen our donations and told us personally how much it means to them. As businesses, we have a responsibility to give back to those who support us, and doing so has had a big effect in rallying our local community.
Third, don't be afraid to open up. 
Customers are much more likely to rally around the businesses they love because they know who runs those businesses and have personal relationships with them. If you feel comfortable, share information about your family and what is new with your store. People will think about you and your brand more frequently if they know and care about what you are working on, and how important your business is to you. While you can use social media to share your business story, in-shop happenings, or your individual passions, try to also have these personal connections in person. Empower your employees to personally connect with customers because at the end of the day, they are an extension of your brand. 
Finally, partner with companies that help make running your business easier. We prioritize working with companies that make it easier for us to run our business so that we can focus on delighting our customers. For example, accepting American Express cards has become easier through its OptBlue program because we now work with one service provider and receive one statement for all major credit cards. This means that we are able to accommodate our customers' payment preferences while simplifying our backend process so that we are focused on making our customers' experience as seamless as possible.
These tips are what worked for us and may inspire you to explore other techniques so that your retail brand becomes an integral player in your local community.