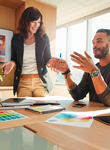 At this year's NRF Big Show, we sat down with Nikki Barua, CEO of Beyond Curious Inc. Beyond Curious is a digital transformation consultancy that helps brands undergo rapid transformations to stay ahead of competition. The Beyond Curious mission is "unlocking limitless potential in people and organizations… to generate groundbreaking ideas and respond quickly to disruptive change."
Retail is undergoing a period of huge transformational change. We talked with Nikki about how indie retailers can leverage their strengths and take action to come out ahead of the competition and build a loyal fan base.

It Starts with You
Before anything else can happen; you need to have the right mindset. There are two parts to this. First, retailers have to constantly think like a startup. "Mindset is the biggest barrier to transformation," says Nikki. In order to succeed you "Need to see obstacles as opportunities."
More importantly than thinking like a startup, you need to believe in yourself. As independent retailers, it's easy to become discouraged when up against national brands. Not having the same technology or marketing budgets, or in-house personnel can seem like the decks are stacked against you. But that simply isn't true. "If it was all about money, big retailers wouldn't fail," says Nikki. Retailers like Blockbuster® and Sears® "they had all the money in the world, but they didn't have the right mindset."
Over the past few years, technology, and specifically retail technology has become extremely democratized. Many ecommerce startups have entered the playing field and found national success. Ten years ago, there were many more barriers to entry in the retail field. Cloud applications and products partnered with data have "made everything more affordable and accessible," says Nikki. "You just need creativity."
Recognize What You Don't Know
Nikki says, "As a retailer, you don't need the answers you just need to ask your customers the questions." If you're unsure of anything, just ask. Your customers will tell you. Instead of guessing what products they want, how they want to engage with you, what they like most about your brand, ask your customers. Even if you think you know what your customers want or what they value, ask anyway. The answer might surprise you.
Nikki recently worked with Sonos® to help them open a New York City store location. The people behind Sonos® thought their customers loved their brand and product for the advanced technology that went into making it. The truth was, customers didn't care about the technology. They cared about how using Sonos® speakers made them feel. Customers described Sonos® in one word: happiness.
Make Customers Part of the Process
Nikki used this concept to bring their brick and mortar store to life in a way that wouldn't otherwise have been possible. To create products, experiences, and environments that really resonate with customers, "you have to make them part of the process."
Whether you are an e-tailer, brick and mortar store, or both, you need an intimate connection with your customers and an experience that gives value. "Indies are successful because their consumers are obsessed," she says. "Intimacy translates into obsession." In order for your customers to be raving fans, you really need to have a connection with them and build meaningful engagement
Don't be afraid to try out of the box suggestions, she advises. Testing out customer's suggestions is one of the best ways to help build customer loyalty and intimacy. Showing that you take their input seriously makes them feel valued and heard.
"Original ideas get thrown away, but lead you to new ideas along the way," says Nikki. Even if an idea doesn't work out, you will learn something about your brand and your customers.

Know When to Get Help
As an indie retailer, you are constantly wearing many hats, performing multiple roles, and juggling countless responsibilities. That is normal for a small business. But in hectic day-to-day operations, it can be hard to prioritize change. Nikki says utilizing an outside source, whether a consultant or agency is sometimes necessary "when you need a catalyst to change habits." There is nothing wrong with getting a gentle push from a helping hand.
Creating loyal customers and evolving your brand really comes down to three steps: Collect data, get insights, and take action. Rinse and repeat to find new ways to engage with your customers, provide better value, and build a loyal following.