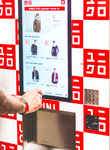 Retail vending machines have begun popping up across the U.S. They offer convenience to shoppers and extra revenue for retailers. They are a great way to boost business without making a big commitment. Similar to popup shops, which have recently gained more popularity, vending machines are temporary and widen a retailer's reach. Most retailers strategically place them in high traffic areas to take advantage of increased traffic and sales.
A few big name retailers have started using vending machines. Uniqlo® has launched vending machines across U.S. airports. They offer a lightweight down jacket and a thermal shirt in a variety of sizes. According to Business Insider, "the vending machine allows Uniqlo® to open in different markets and grow their presence in the U.S. without having to commit to investing in stores." Best Buy® has also begun placing Best Buy Express® vending machines in airports and train stations around the country. The tech dispensing machines "don't require human employees, advertising, or price discounts" meaning high profit with low overhead for Best Buy® (ZoomSystems).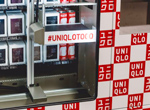 CVS® is another retailer taking advantage of this next generation popup. "We are always looking for new ways to combine convenience and innovation to better serve our customers," says Judy Sansone, Senior Vice President of Front Store Business and Chief Merchant at CVS Pharmacy. Fashion vending machines benefit both the customer and the seller by stimulating more sales while offering increased practicality. Stumbling across one in a crowded space is exciting for a shopper since they are such a recent development. They capture the excitement and short-term aspects of popups.
Big retailers are leading the way with new forms of retail. Being able to buy a jacket from a vending machine is still an anomaly in the U.S., but soon it will become the norm. These types of vending machines will spread from airports to other high traffic areas such as grocery stores and shopping malls. They are truly a win-win for sellers and buyers, which adds to their success and guarantees their growth. Fashion vending machines help customers have easier access to essentials and help retailers expand their business with minimal risk.