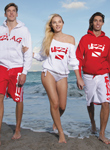 T-shirts sales in the United States is over a $24 billion dollar industry. Sales are especially high during the summer months when shoppers are traveling, trying to beat the heat, and picking up souvenirs. As fall approaches, t-shirts are an easy staple that offers comfort and versatility. For just about any occasion, you can't go wrong with a t-shirt. As a retailer, t-shirts are likely a staple in your business. Follow these tips to make the most of t-shirts sales this summer and every season.
Seasonal
When it comes to seasonal sales, most people think of drastic changes like winter coats, short shorts, gloves, and bathing suits. However, it's just as important to change out your t-shirt line-up. During fall and winter months, thicker and warmer fabrics are a must. Darker, muted, and subdued colors are also important to add for the changing season.
For the summer months, light breathable fabrics are key. Joy Mintz of Rock Bottom Apparel tells Independent Retailer that especially for summer, "neons, lights, and brights" are most popular colors for t-shirts. She also recommends namedropping your town, park, or city, especially if you are in a beach or resort area. Rock Bottom Apparel offers 68 colors of very competitively priced t-shirts, All orders are customizable and they can accommodate any namedrop requests.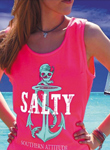 Beach Girl
Lin Dryer, owner of Tees by Classy, tells Independent Retailer that her best-selling summer t-shirts are from the Beach Girl line. Nautical themed designs like anchors, pearls, and sailboats are all very popular. Crab and lobster designs do really well in the Northeast. "We can't keep this line in stock," Dryer says.
Before moving to wholesale, Dryer owned and operated several retail stores in the Michigan area. She agrees with Mintz that lights and brights are great options for summer t-shirts. With retail, and especially t-shirts, "You make your money when the sun is shining," says Dryer. All products from Tees by Classy are custom designed and printed in-house.
Southern Attitude
Southern Attitude also finds success with bold colors and cute designs. "Seafoam greens and coral pinks are great in the summer," says Mark Kleimeyer of Southern Attitude. Their popular looks include anchor, nautical, seahorse, flip flop, and baby animal patterns. Kleimeyer continues, "The whole Southern theme is really hot right now. Anything with camouflage or a deer really speaks to the Southern way of living." Many of Southern Attitude's t-shirt designs feature playful sayings. Kleimeyer says, "The cute sayings represent shoppers' personalities. Our t-shirts feel customized because of the expressive attitude and Southern lifestyle." Though the colors and images are geared towards young adults, the classic shirt styles are made to fit and flatter all consumers.
Test the Boundaries
It's important to test the boundaries and offer t-shirts that are different from your personal taste and are different from the ones your customers are already purchasing, Dryer continues. "You have to buy products that appeal to the customers you want in addition to the ones you have already." Dryer tells Independent Retailer one of her customers, who owns a main street boutique in Idaho, had a loyal group of customers of women in their 40s and 50s. Plenty of younger customers were walking past her store, but were not stopping in. "A shirt that a woman in her 40s of 50s is wearing will not be the same shirt that a teenager will pick up," says Dryer. "She incorporated some brighter and fresher designs, and the younger passersby started stopping in."
Make Mistakes
Not every new design, style, or fabric that you test will be a home run. But you won't know until you try. Dryer explains, "Get a variety. Don't stick to one design or style. Just because you like it doesn't mean your customers will. You have to step out of your comfort zone. I've learned that time and time again. What people do wrong is they just stick to what they like. If you offer a variety of designs and lots of choices you'll sell that much more."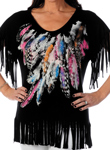 Trust
Building strong relationships within the industry can help you take your business to the next level. Since it is so easy to get stuck within our own tastes and preferences, it's important for retailers to have guidance they can trust. Dryer explains, "You have to have trust and faith in the people you're working with. Sometimes buyers are a little too conservative when it comes to trying new things."
For retailers and customers, t-shirts are a no-brainer. Dryer says, "Everybody loves t-shirts. That's what we wear most of the time day to day." The easy, versatile, affordable garments are great summer souvenir and statement sellers. Make the most of your sales by offering a variety of colors, sizes, and styles. Don't be afraid to try new designs, suppliers, and types of t-shirts along the way. If you keep doing what you've always done, you'll continue to get the same results you've always gotten. Sell more this summer by branching out and taking a leap of faith.