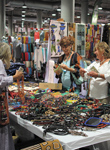 Attention West Coast retailers: check your calendar for February and book your travel to Los Angeles to attend the next California Marketplace temporaries trade show, to be held February 17-20, 2017 at the Los Angeles Convention Center. Due to retail buyer request, Urban Expositions is combining forces with LA Mart to provide retail buyers a fantastic buying opportunity to jump into the New Year.
Suzanne Pruitt, Director of Marketing, Urban Expositions, tells Independent Retailer, "Both Urban Expositions and the LA Mart wanted to respond to buyer demand for a comprehensive, convenient location for LA's order-writing resources during Los Angeles Gift & Home Market Week. As part of the process, Urban Expositions will relocate 200+ of our former South Hall order-writing exhibitors from the Los Angeles Convention Center to the LA Mart permanent showroom building's 2nd floor exhibit hall – joining the LA Mart's 150+ national and regional showrooms. In addition, our show's World Style, Fair Trade, Jewelry Cash & Carry, Vintage and LA Value exhibitors will return to their original Kentia Hall location at the Convention Center- renewing the 'bohemian bazaar' buying atmosphere our retailers have always loved. We've also rebranded our two exhibit locations under the umbrella, 'California Marketplace temporaries.'"
In a concerted effort to allow buyers to be able to effortlessly shop all of the wholesale products and supplier deals, the California Marketplace temporaries are scheduled within a date pattern that avoids conflicts with other industry shows. To ensure that retail buyers have easy access to both locations, Urban Expositions has simplified the registration process: one registration badge will give buyers access to all show venues. Complimentary shuttle service will be available between the LA Mart and Los Angeles Convention Center and associated host hotels to allow for easy and comfortable travel from one location to the other.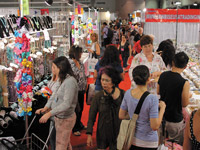 The California Marketplace temporaries will be found on the LA Mart 2nd Floor – February 17-19, 2017; the Kentia Collective runs February 17-20, 2017 at the Los Angeles Convention Center and permanent showrooms are located at the LA Mart and are open February 15-20, 2017.
Also of note, Urban and the LA Mart will host a "Winter Blast" Market Party on Saturday, February 18, at 6 pm at the LA Mart's second floor trade hall. All buyers and exhibitors are invited to enjoy adult beverages, light hors d'oeuvres and music to kick off the show.
Pruitt tells IR that buyers will definitely want to browse the huge selection of merchandise in the Kentia Hall of the LA Convention Center. "'Kentia Collective' is our new name for what has become one of Market Week's most popular buying experiences. The exhibitors showcase a rich blend of fashion, home décor, fair trade, handicrafts and other unique artisans – available for immediate delivery and ordering – from around the globe in a high-energy marketplace setting."
The February show will also see the repeat appearance of the LA Value section of the show. "Our goal is to build this section to be a one-stop resource for general merchandise, seasonal merchandise, fast-selling clearance items, surplus, overstock and other value-priced items from top suppliers and new resources in a range of categories – from housewares and electronics to home improvement, gifts, fashion accessories/apparel and more." Pruitt explains. In addition to the LA Value section, Kentia Hall is where buyers will find destination categories including Jewelry Cash & Carry, Vintage and World Style.
What will buyers find at the LA Mart? Wholesale suppliers representing top brands, artisans and emerging leaders in categories including Gift, Trend LA, Makers' Market – handcrafted items, Personal Style, Boardwalk, Souvenir and Resort. In short, this powerful combination of shows and suppliers is sure to offer retailers a buying experience not to be found anywhere else!
For more information on the California Marketplace Temporaries show, the LA Value Section or the LA Mart, please visit www.la-mkt.com or call 800-318-2238.