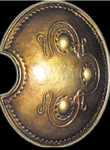 California based, Pacific Solution Marketing, has been supplying cutlery retailers and their customers since the mid 1990s. The company has become a well recognized wholesale supplier to an expanding number of independent retailers who own and operate specialty knife shops, gift stores, smoke shops and more. Manufacturing its own blades in China, Pacific Solution has direct control over quality and design. Among the exported products are knives, swords, daggers, armor, and even letter openers. Some of the most popular items sold on a regular basis are high quality samurai hand forged swords. "Pocket knives are always very strong, reliable sellers as well," adds Peter Lee, business development manager.
Real Life Replicas for Any Grecian Cutlery Collection
Pacific Solution takes pride in the edged products its sells to resellers and niche cutlery collectors, but is careful to mandate an appropriate age limit for handling. "All retailers are instructed that they cannot sell to customers under 18, a warning explicitly stated on the invoice," says Lee. And while sure to draw attention from all ages, the new line of weaponry, the Immortals licensed collection, is to be handled with care and only available for purchase to adult collectors. As Immortals hit theaters on Nov. 11, 2011, Pacific Solution's Heraklion Shield, a legitimate shield replica used by the movie's villain army, and two limited sword offers, featured and used by the main character Theseus, also hit the shelves. "Created by the same producer of the movie "300," and featuring Henry Cavill, a growing star with a future role as Superman, we knew Immortals would be a favorite among crowds and the weaponry would receive high customer interest," says Lee. "It was a great experience working with Relativity Media on the Immortal project."
The regular production Grecian inspired pieces wholesale from $59.95 to $79.95. For the Limited Edition Hoplite Soldier and Theseus Swords (only 100 units available of each) pricing can be obtained by calling the company and speaking to a representative. "Those customers who typically purchase 10 or more items have the first chance to order from the Limited Edition lines. All buyers, however, are limited to five units of these lines," notes Lee. Pacific Solution's minimum order starts at $200, and retailers can sign up online with their contact information and tax ID to see the company's full line and wholesale pricing.
For more information:
Pacific Solution Marketing Inc.
1220 E. Belmont St.
Ontario, CA 91761
Tel.: 909-930-5845
Website: www.pacificsolution.com