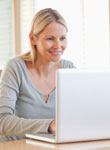 All ecommerce storeowners want to increase sales conversion rates, and there are many ways to achieve this goal. However, a critical and somewhat overlooked element of the process is visitor engagement. Without higher engagement from visitors, it is going to be difficult to satisfy the need for higher website conversion. Visitor engagement is what ultimately starts the conversion process. A customer interacts with a brand, and the more they interact the greater the conversion opportunity. Therefore, when seeking sales conversion increases, web storeowners must first generate multiple opportunities to engage their visitors. Here are seven strategies ecommerce retailers can employ to inspire visitors to interact with their brands, and move them closer to the end of the conversion funnel.
1) Ease their fear of buying.
A thought that crosses many online shoppers' minds is, "What if I get my product and it does not fit or work for me the way I expected? What are my options?" Developing and clearly displaying policies such as "Easy no hassle returns" or "No questions asked on 30 day returns" can address this apprehension. When it comes to the holiday season, it may be wise to extend return policies to something such as "No questions asked, no hassle returns on all purchases until January 31." This encourages shoppers to buy gifts early, knowing that they can return a product if it does not work out.
2) Bring attention to differences.
If you are looking to become a low cost leader, then it may be beneficial to show your store's prices vs. the competition's prices. Another option is to display a seal that offers a lowest price guarantee. If your shipping is faster than the competition, let shoppers know that. These differences grab attention and can keep visitors more engaged.
3) Invest in the wow factor.
A happy customer translates to repeat sales, and repeat sales translate to higher profits. Consider adding special methods of contact that surprise current customers. Unexpected birthday messages with discount coupons is one way to do this, and welcome messages for new customers is another. If you want to make visitors really smile, include a free gift with their purchase. The wow factor is also great to increase viral reach to those not already engaged with your brand. Happy customers are going to tell their friends about their experience, and that leads to more sales.
4) Test site design and layout.
Do not become complacent with your website. Continually review the site to ensure everything is working, as well as to see what can be improved. Keep customer assurance and confidence items, and all points of action in clear view. Check the font size, image size, clarity and placement of elements on the page. Would increasing the font size from 10px to 12px get visitors more engaged and moving down the path to a sale? The only way to know is through continual testing.
5) Speed up the conversion process.
Every shopper wants instant gratification. That is why rewording "Free shipping" to "Fast and free shipping" can have a greater impact. Ecommerce stores can get customers more engaged, and speed up the conversion process by offering things like one click ordering and faster shipping options. The attention these types of services offer will keep customers interested and interacting with the brand, far beyond the initial order.
6) Incorporate live chat.
Live chat has been proven time and time again to increase visitor engagement and conversion. This personal interaction with a real human being is a great way to close a sale when a visitor is on the fence of becoming a customer. Be careful of "push notifications." This is when a chat operator initiates the contact with a pop-up to the customer, asking if they need help. Visitors may find that an intrusion on their privacy and leave directly. However, keeping an option of live chat available at all points during their visit, in case they have questions, is a great way of getting shoppers more engaged.
7) Use social media.
With the wide acceptance and use of social media sites such as Facebook, Twitter and Pinterest, retailers should develop a social media plan of action to engage customers frequently. The viral factor that can be achieved from a well-placed status update alone can turn an ordinary sales day into a record breaker. There are many ways to increase visitor engagement with a brand. Do not overlook tried and true methods such as those mentioned above, but also be willing to think outside the box. Seek new and creative points to keep visitors in contact and actively engaging with your brand, and conversion increases will follow.