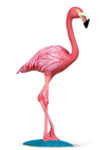 People all around the world commemorate vacations and day trips with mementos for themselves, family and friends. As a result, the 30,000 gift, novelty and souvenir stores in the U.S. reportedly earn a combined annual revenue of around $18 billion. Consistent top selling souvenirs include shirts, hats, figurines, refrigerator magnets, notepads and spoons, and retailers must constantly offer new products to attract customers. Here is an exclusive look at several creative keepsakes available now and into 2014 from Aurora World, Prints Charming, Marsha's Collection, Henschel Hats and Safari Ltd.
Sea Sparkles™, Miyoni™ & licensed products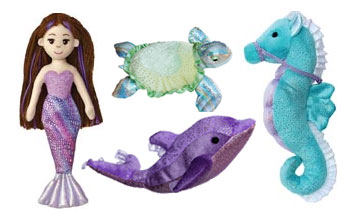 Aurora World®, a leading global supplier of affordable, high quality souvenirs and gifts, specializes in plush toys and soft dolls. The company's diverse portfolio of products and price points can accommodate any souvenir, gift shop or toy retailer. Aurora World offers a huge selection of plush items in many themes including barnyard, wildlife, jungle, domestic, sea life, dinosaurs, dragons and more. "Plush is an emotional purchase, and has a foundation with people of all ages," says Michael Kessler, SVP of Sales and Marketing.
Sea Sparkles™, an assortment of soft mermaid dolls and sea creatures, is one of Aurora World's most popular sellers. The manufacturer recently expanded this line with mermaids in more sizes and styles, each of which has long yarn hair and a dress accented with a shiny jewel. "In 2014, we are expanding the Sea Sparkles universe to include new mermaids, pirates and more sea friends. We are going deeper into the mysteries of the sea to offer retailers more ways to build their businesses," Kessler reveals.
Aurora World has many toys that sell well in zoos and wildlife parks. Flopsie™ is a diverse line of soft, bean filled semi-realistic plush animals offered in three sizes, and Miyoni™ is a high-end realistic line that features the most popular domestic, jungle, barnyard and North American wildlife. Miyoni will soon include a koala, kangaroo and sloth. The toy maker is also expanding its global license called YooHoo & Friends™. The line is based on animals from around the world, many of which are rare and endangered, and includes everything from alligators to sloths and zebras. In 2014, the company will continue to expand the selection with more collectible characters. "We value our retailer partners, and we listen to their input designing collections that are both on-trend and classic to drive business," Kessler shares.
Aurora World keeps abreast of entertainment, licenses and media trends because they drive consumer demand, he adds.  The company has a diverse licensed portfolio consisting of My Little Pony®, Raggedy Ann and Raggedy Andy®, Garfield, Lambchop™ and more. Aurora World also focuses on fashion and color trends, and translates them into soft goods. "Some of the looks we are seeing sell through are rich blues, pinks and purples," Kessler reports. "In fabrics, we are seeing iridescent, jeweled and shimmery executions accented with 3D enhancements."
Destination letter art & Lifestyle photo frames
Another hot keepsake line is destination and campus letter art from Prints Charming. The company visited hundreds of popular places to photograph local landmarks and create these unique framed prints. "Our products are much different than traditional letter art, in that each letter is a photo of an actual location. Captions below each letter show where the images are from. It is more personal and tailored, and has been remarkably well received on the destination side," explains Jon Hart, owner.

Places such as Aspen, Chicago, Las Vegas, London, Paris, San Francisco and many more are already available. Chicago, for example, is represented by images of the Rookery (C), Field Museum (H), Willis (Sears) Tower (I), Tribune Building (C), Navy Pier Ferris Wheel (A), Chicago Theater Sign (G) and Millennium Bean (O). Prints Charming will also create custom pieces. "This is a clever, mid-priced product in a really nice frame with a glass front," Hart notes. Regular wholesale is $25, and retail is $49.99.
Prints Charming is also introducing new Lifestyle picture and photo frames this month. The line features design themes represented by pictorial and word associations. "We started with a Real Tree licensed camouflage pattern, and we have a pink version that is really hot," Hart notes. Included among the 40 initial interest categories are hiking, running a marathon, fishing, mountain biking, camping, pets and more. Lifestyle picture and photo frames will be available in a variety of sizes for single and multiple photos. "They are an affordable and personalized way to frame pictures," Hart says.
Custom designed and printed ladies' fleece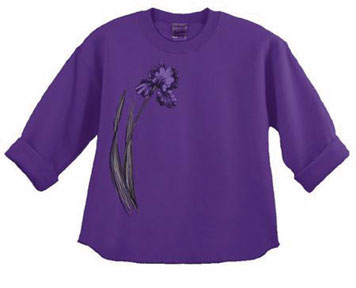 Marsha's Collection is a line of soft apparel designed by artist Marsha Holler, and cut, sewn and printed at her Great Graphics factory in Dover, DE. "It is about comfort and style," Holler explains. "My products are different than your standard souvenir tee shirt." Marsha's Collection is competitively priced for mid-range priced goods, and Holler's most popular style is the trim fleece. "My demographic loves a three-quarter cuffed sleeve. I took the band off the bottom of the sweatshirt, and it is a lot more flattering and stylish than a regular sweatshirt, yet still very comfortable. My saying is 'freedom from frumpy'." Holler's clothing sells in resorts and destination attractions like the Biltmore Estate. "I often create designs for a specific place. With the Biltmore it is all about the house, so that is what is on the garment. We also name drop when customers want it."
Two of Holler's latest fleece designs are a deep purple body with an iris, and a navy blue body with a sun on the front and moon on back. "I also operate a retail store in an ocean town, and it is important that my wholesale customers know that I am in their shoes. My retail is my testing ground where I figure out prices, styles and colors that will go to the wholesale market. Watching women try things on I get ideas, and I know the trends because my customers ask me for certain styles and colors."
Embroidered Breezers, safari and water repellant hats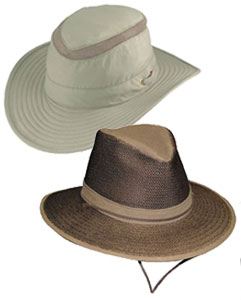 Hats are also popular souvenirs, and the Henschel Manufacturing Company wholesales outdoor and fashion leather and cloth headwear it produces in the USA. In addition to carrying a vast array of popular styles, the company also designed and makes the Breezer Collection of hats with a mesh crown. They are crushable, packable and breathable, and great sellers in warmer climates and beach areas. The company's gear is sold in several resorts and gift shops, and venue names can be custom embroidered on the products. "Disney Parks have been carrying our hats for more than 15 years, and our best seller there is our 5310 Breezer," says Jessica Kraemer, assistant to the VP of Sales. "The smaller safari style is also a big hit with women, and khaki and earth tones are always popular." The company's straw hats, many of which have interesting details, sell well in souvenir shops in tropical destinations such as the Caribbean. "We also have a hat that is popular at outdoorsy lodges and national parks like Niagara Falls. Our 5552 is water repellent, floatable and moisture wicking. In addition, we have licenses with National Geographic, Who Ced by Cedric the Entertainer and Robert Graham," Kraemer points out. "Going into spring 2014, straws will continue to be popular in a variety of patterns, trimmings and bands, especially with the younger generation."
Hand painted real life and fantasy figurines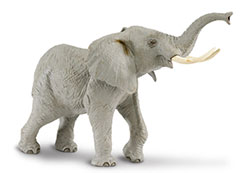 Safari Ltd. manufactures and distributes hand painted and authentic real life and fantasy figurines, including wildlife, safari, farm, ocean and domestic animals, exotic birds and human figures. "We provide high quality figures of all the favorite zoo, aquarium and park animals. Every child wants to take home their favorite animal, and lucky for them, we make them all," states Christina Pariente, VP. "We have the largest variety of figurines on the market. People want souvenirs that are unique and memorable."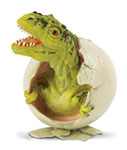 Safari Ltd. launched in 1982 with a children's card game featuring endangered species. A few years later, the company signed a license agreement with the Carnegie Museum of Natural History Dinosaur Collectibles. This license allowed the firm to produce authentic, scale-model dinosaur figures, with the collaboration of their paleontologists. Today, the company continues its history of innovation and will be introducing more than 70 new souvenir items for 2014. "The best souvenir is one that reminds you of your experience and lasts a lifetime," Pariente concludes.
Whether you are retailing souvenirs in a museum, zoo, aquarium, theme park or airport, it is important to offer tourists and visitors merchandise that will speak to them on an emotional and personal level. By displaying meaningful and unique items such as plush and polished animal figures, targeted interests photo frames, soft designer fleece or trendy yet functional headwear, merchants stand to satisfy customers as well as earn substantial returns. Profitability for indie retailers rests on selling specialty and popular products, providing superior service and delivering a unique customer experience.
Aurora World Inc.
Tel.: 888-287-6722
Website: www.auroraworld.com
IGES/SSS booths PF6123-6131
Prints Charming
Terry Cox, sales manager
Tel.: 636-532-8992
Website: www.getletterart.com
IGES/SSS booths SV3521 and 3522
Marsha's Collection
Toll Free: 800-338-4018
Email: Online form
Website: www.wemakenicestuff.com
IGES/SSS booth PF6008
Henschel Manufacturing Co.
Email: Online form
Website: www.henschelhats.com
IGES/SSS booth SV2506
Safari Ltd.
Toll Free: 800-554-5414
Website: www.safariltd.com
IGES/SSS booth PF6518