By Tiffany Tysiak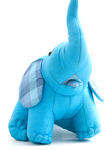 Plush toys have been favorites of children and adults alike for generations. Visit any parenting website and a plush toy is nearly always listed multiple times in "Top 10 Toys" lists. "I do not buy what I like, I buy what the guests want," said Donna Steakley of the Fossil Rim Wildlife Center in Glen Rose, TX, who was able to offer some words of advice on the subject.
Smarter words have never been uttered when it comes to booming plush sales in large and small retail stores. Donna has noticed plush sales increasing this season — specifically the brightly colored animals with vibrant prints including polka dots, sparkles and tie-dye as opposed to the natural colored animals. Listening to the wants of the customers is very important when stocking a store with products, though merchandising the products appropriately is equally as important.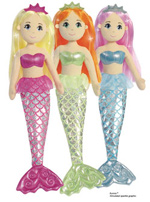 Holidays are a great time to freshen up displays and put out new, themed items so customers have a reason to visit again and again throughout the year.
While the bright colored animals Steakley mentions as current hot sellers are expected to continue to do well, custom plush is also expected to be a big seller this year. Stuffed animals bearing the name of the amusement park, ball team or zoo that was visited is a great way for kids and adults alike to recall the memory of the event that brought them their "stuffies." Dual-purpose plush remains popular, as consumers like to feel they are getting the best "bang for their buck." Stuffed animals that hug a lollipop, made popular by companies like Squire Boone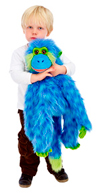 Village and The Petting Zoo, remain excellent sellers. Additionally, little animals, mermaids and baby dolls that fit inside a small plush purse offer the consumer two toys in one, and surely every child would like a small purse or tote to carry his/her new treasures in!
Three tips for Higher Plush Sales:
1) Keep it simple. Be choosy when selecting merchandise and stock the items that sell well in a fun and eye-catching display.
2) Include plush toys in the direct line of sight for young children. This allows them to not only see the product, but also hug and squeeze it to determine if it is a "keeper."
3) Provide excellent customer service! Stores will always move more inventory if the customers enjoy their shopping experiences. A smile and a greeting go a long way.