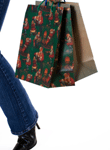 American Express and independent retailers are asking American consumers to not only shop, but pledge their allegiance to local small businesses this holiday season. Over the years, Black Friday has become recognized for the flash mobs hunting for bargains and big name brands at big box retailers, while Cyber Monday has become a day for eCommerce giants to celebrate the increased checkouts among their digital shopping carts. Independents, however, have earned a day to showcase their unique merchandise, offer in-store specials and bring together the community during the holidays. Small Business Saturday returns for its second consecutive year, on Nov. 26.
Small Business Saturday Initiative Promotes Indie Sales
Last year, New York City became the first city in the country to endorse the nationwide initiative, two days after Thanksgiving. Launched at New York City Hall by Mayor Michael Bloomberg and American Express Chief Executive, Kenneth Chenault, the objective was to get consumers shopping at their locally owned, independent businesses. To boost interest in participating among small businesses and consumers, American Express offered $100 worth of Facebook advertising to 10,000 business owners who signed up for the program. The company also gave a $25 statement credit to 100,000 card members who registered their card and used it at a small business on the day of the initiative.
Once again, American Express is looking to make this annual event a success, providing retailers with tools that will help generate ideas on creating in-store offers and build an online presence to rally customers. A limited number of American Express cardholders will once again receive a $25 statement credit if they register their cards and use them at participating small businesses on Nov. 26. And for those independents wondering, "Will I see a significant increase in my sales on this day by participating?," international customer service expert and author of the book, The Greet Your Customer Manual, Laurie Brown, says, "Small businesses can truly capitalize on Small Business Saturday by following a few important steps." American Express is supporting the initiative and providing the initial tools to make the event a success, but the retailers must do their part.
1) Provide exceptional personal service.
While the big box stores may have the lowest prices, the small businesses can provide the kind of unique personalized service that customers really want and need.
2) Create a party atmosphere.
Make the day seem like a special event in your store. Offer "treats" your store would not normally offer customers, such as cookies, hot cider or even a cup of cocoa.
3) Go the extra mile.
Offer free wrapping or have someone help the customer get their packages in their car. If you don't have what the customer is looking for make a few calls to see if you can find it.
Brown adds, "The real opportunity of Small Business Saturday is in being the opposite of what customers experienced on Black Friday. Customers likely dealt with disengaged, overly tired, stressed out employees who couldn't care less if they were there."