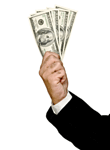 October retail sales were higher than predicted across the board, a positive sign for retailers heading into the holiday season, the National Retail Federation reports, as sales increased 0.7 percent from September and 4.7 percent over October 2010. Data released today by the U.S. Commerce Department showed total retail sales increased 6.7 percent unadjusted year-over-year. According to the Wall Street Journal, economists surveyed by Dow Jones Newswires only forecasted a 0.1 percent increase in October.
"October retail sales support the assertion that consumers have a distinct desire to spend, bolstering hopes for solid sales growth in November and December," said Jack Kleinhenz, Chief Economist, NRF. "This momentum bodes well for the upcoming holiday season."
Wholesale Prices Dropping
In addition, U.S. wholesale prices in October fell at the fastest monthly pace since February 2010, with the producer price index dropping a seasonally adjusted 0.3 percent from a month earlier. Consumer confidence continues to rise, as Thomson Reuters/University of Michigan's preliminary gauge of consumer confidence taken last week improved to 64.2 for November, from 60.9 in October.