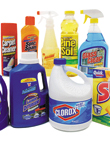 With roots in the independent retail business, International Wholesale of Southfield, MI takes care of its brick and mortar customers. Michael Sheena of International Wholesale comments, "We know the struggles faced by independent retailers, and we aim to be a customer oriented company that is willing to go the extra mile for them." It was nearly 30 years ago that Sheena's father-in-law, Sam Konja, had a small convenience store where he ran a small distributing operation on the side, stockpiling goods and reselling to similar businesses. Today, International Wholesale is no longer a small time distributing operation, as it carries products in nine different categories, including kitchen items and housewares, and general merchandise. With 80 to 85 percent of the customer base being dollar or discount stores, all merchandise is offered at rock bottom prices, with a suggested retail of a $1 and up. Now operating out of a 132,000 square foot warehouse, International Wholesale has room for not only discount and dollar merchandise, but also brand name labels.
New Merchandise and Old Favorites
Among the company's most popular merchandise categories are cleaning products, health and personal care, and its original area of expertise, food and beverages. As a wholesale distributor, International Wholesale offers a well rounded collection of food and snack product lines, from beverages to spices, candy to canned food. The business started out selling candy wholesale, as well as food and snacks, giving International Wholesale over 25 years of experience in purchasing, handling and selling wholesale food and beverage products. Sheena confirms, "Candy is still a big part of our business." With hundreds of items just in name brand candy in a variety of sizes and other snack items, International Wholesale has become a major supplier throughout the country, offering brand names like Snickers, Twix, M&M, 3 Musketeers, Skittles, Sour Patch, Air Heads, Starburst, Kit Kat, Wrigley, and more.
While candy and food products are popular, International Wholesale also carries between 4,000 and 4,500 other items, with new and different stock arriving daily. "We add about a couple hundred new items each week, some lines may drop off, but we are always looking to add more," notes Sheena. International Wholesale has a $1,000 minimum order, and Sheena says the company's prices and service speak for themselves, "We usually ship orders within 24 to 48 hours." Wholesale and volume pricing are available after creating a login or contacting the distributor directly. Sheena mentions, "We do not offer discounts or specials, we already have rock bottom prices. And it is my philosophy that if you need to advertise discounts, you were charging too much to begin with. Here, we start at the lowest possible price."
Continuing the expansion that Sam Konja started 30 years ago, International Wholesale makes appearances at trade shows to better spread the word of the company's high diversity and low prices. "We now take a booth at Midwest Market Days, part of the Regent Products Trade Show" Sheena says. "We feature a good assortment of our mainline items, and let new customers get to know us. This year we'll also be exhibiting at ASD in Las Vegas, booth V2046," he says. For customers interested in learning more before such events, International Wholesale has created a comprehensive website, where customers can see what's available on a daily basis and place orders online. Sheena explains, "New customers need to go through a simple registration process online, and if qualified, they're approved within 24 hours. The website is updated every night, but may not always show real time inventory. Also, we are working on an up and coming specials page."
For more information:
International Wholesale Inc.
21170 West 8 Mile Road
Southfield, MI 48075
Toll Free: 800-337-7565
Website: www.internationalwholesale.com