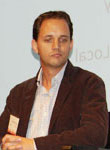 Savvy merchants are increasingly unwilling to offer Daily Deals to get consumers in their stores, because it can mean taking losses. But the Daily Deals model is evolving and, if approached tactically, can benefit business. To help small business operators figure out the best discount program for their businesses, a panel of experts shared their insights on this topic at the recent Online Marketing Conference, presented by DNAinfo.com, New York's neighborhood news provider, and Street Fight, a source of information and community for the local marketing industry. Panelists included Jacco de Bruijn (left), VP of marketing at Signpost; Perry Evans, CEO of Closely; and Kristopher Jones, CEO of ReferLocal.
Signpost is a New York City company helping local businesses with simple advertising, according to Signpost's de Bruijn. "Online ads don't work for most small businesses," he said. They are fragmented and confusing, and you don't know whether they are effective. "Enter 'Daily Deals'," de Bruijn continued. "But for Daily Deals to be effective, you have to sell to more than an email list like Groupon." De Bruijn suggested creating an offer and pushing it out to local content, local search, flash sales, social media and mobile apps. "It's important to be able to measure effectiveness," he stressed.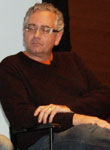 Similarly, Closely offers a set of web-based and mobile applications designed to help local businesses win new customers and build customer loyalty. Small businesses can use Closely tools to monitor their competitive online landscape and create tailored promotions. Perch, for example, is the firm's app that shows business operators what is going on around them, explained Closely CEO Evans (right). It highlights what neighboring businesses are doing on Facebook as well as the promotions they are offering and other information. Understanding competitors' activities can be critical in forming a winning marketing strategy.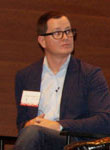 ReferLocal is a local digital ecommerce platform, notes ReferLocal CEO Jones (left). This members-only platform is free, and advertisers only pay for performance. "Daily Deals are evolving and are targeted to consumers as well as to a use timeframe," Jones revealed. Advertisers must offer an exclusive deal to be listed. The primary options are Deal of the Day, Group Buying, Pay Per Call and Online Leads.
Deal providers offer a range of services and philosophies. Small businesses need to educate themselves on which strategies will work best for them before diving into a Daily Deal offering.
For more tips to grow your business, from Google pro Alex Abelin, click here.
To learn how online search can boost your business, click here.