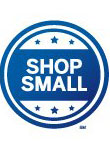 Small Business Saturday, November 24th, presents a timely opportunity for independent retailers to engage existing customers and attract new ones who can become loyal year-round customers. Created by American Express in 2010, this annual event is held on the Saturday after Thanksgiving, during one of the busiest shopping periods of the year, and encourages holiday shoppers to patronize small, local brick and mortar businesses. Small Business Saturday serves as a counterpart to Black Friday and Cyber Monday, which market big-box retail stores and ecommerce stores, respectively.
During the holiday season, national retailers give small businesses stiff competition by providing deep discounts and running major ad campaigns, making it critical for independent retailers to stand out from the pack. According to Chris Litster, VP and general manager of EventSpot from Constant Contact, which provides small businesses a turnkey solution for planning, managing, and promoting successful events, "While competing with major retailers may seem like a challenging task, one important area where independents have a distinct advantage is customer engagement."
Engaging with customers and creating a connection leads to loyalty and ever-valuable word of mouth. Litster suggests creating customer engagement on Small Business Saturday by turning the day into a real event, where products and services are showcased, and fun is the name of the game. "Of course, it's not enough to just throw an event," says Litster. "With proper planning and marketing, the event can offer a memorable way to bring in and engage customers and, most importantly, keep them coming back for more after the holiday season."
Litster offers 10 easy ways you can turn Small Business Saturday into an event:
Pre-event
1. Set up a Small Business Saturday event homepage on Facebook (for instructions, click here). Facebook is a great location for this page, as it's where customers are spending their time. Having an event website holds several benefits such as building a platform to market the event, collecting attendee information, alerting those attending of any scheduling changes and sharing information post-event.
2. To encourage likes, consider utilizing one of the many apps available to "like-gate" content (for insights and instructions from Constant Contact, click here) or a special discount on goods or services to be redeemed during the holiday season.
3. Create an email invitation with information about the special offer and a link to the event homepage. Send it to existing customers. Encourage them to forward it on to friends, and offer another incentive for people who do so.
4. Share the event on Twitter to attract those who may not be on the email list. Create a Twitter hashtag for the event (click here for instructions), which will help create a community among followers. Also encourage people to use it in their posts.
5. If planning to ask for phone numbers during registration, sign up for a text messaging service like betwext, to text message special offers to registrants before and after the event.
During the event
6. Make the event distinctive from every other day customers come in. For example, a clothing boutique can hold a fashion show and hire local residents to model for a discount on products. Want to cater to kids and families? Consider offering face painting, cookie decoration or other kid-friendly activities. For easy access and extended reach, plan a webinar (there are free webinar hosting services) that offers expertise on a topic, from home decorating to selecting the best electrician. From product demonstrations, to wine and cheese tastings, there are countless options to create an experience and stand out from the crowd.
7. Social media can also be effective during the event. Take photos and share them on Facebook. Promote the Twitter handle and Facebook Page. Ask questions on both those channels and give out prizes for the best answers. Do this a few times during the day and allow people to come in and pick up their prize any time. It gets customers to come back, on social media and offline.
8. Don't require attending customers to fill out too much information but be sure to collect their email address for distribution of future email newsletters and event invitations. Social media info, such as Twitter handles, and phone numbers should be optional and can be used post-event to continue a conversation.
Post-event
9. Send a post-event survey to all the people whose email addresses were collected. Consider also posting on Facebook or Twitter to reach those people who didn't provide email addresses. Getting feedback will provide insights into how the day went overall from the customers' point of view. Use this information to set up future events.
10. Stay in touch. Send a "thank you for attending" note or a holiday card. Don't miss the opportunity to nurture your new and existing customers. You've won them over, now don't lose momentum.
The term event is often thought of as a meeting, conference, concert or tradeshow. For a small business, an event can mean a new way to drive customer engagement. Collecting registration for events throughout the year allows for easy tracking of repeat attendance and pinpoints your most rabid fans. Litster proposes that independent retailers dare to be different. Put Small Business Saturday to work for you.