by Jon VanZile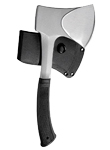 For the last 14 years, JB Outman Distributing has been a suppler of premium cutlery and outdoor gear to the wholesale market. According to company owner Joey Baker, JB Outman covers outdoor needs for a huge variety of retail customers, including mom 'n' pop shops, military surplus stores, gift shops, outdoor and sporting goods stores, and general retailers.
The JB Outman product catalog includes everything a retailer would need to build a comprehensive outdoor or cutlery program. Knives are the company's leading products, according to Baker, led by Sypderco folding knives and Kershaw fillet knives. One of the keys to running a successful cutlery program is to offer the widest selection of product possible in an attractive display.
JB Outman offers free displays to select retail customers, Baker says. "We have free displays for retail customers who buy enough product to fill the display," Baker says. "We will include the free display." The company also offers popular accessories to help people maintain knives. These include knife sharpeners and holsters. JB Outman also offers products that are geared for a more military-minded market, including tactical gear like face paint, batons, handcuffs, and military-style packs and backpacks. Other product areas focus on camping and survival gear, first aid, clothes and apparel, and archery and axes.
One of the company's biggest sellers of the past year is the E-Z Out Rescue knife, a special-use knife with a blunt tip and a sharp, serrated edge. The knife is designed for use in situations when a sharp tip could be dangerous or damaging, but you still need a sharp blade to cut through materials, these knives are popular with rescue personnel.
Ordering and Shipping Information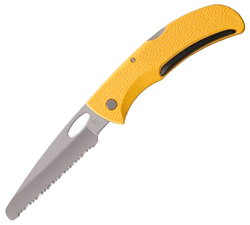 JB Outman products are available for purchase on the company's website, through email, or via telephone. The website is organized by product category as well as by brand, to make it easier for retail customers to find the products they're looking for. New customers have to show a sales tax ID or business license to open a wholesale account. Dealer applications are available online and typically are processed within 24 hours.
According to Baker, JB Outman is set apart from competitors by its generous terms. There is no minimum order for approved wholesale customer and no drop-ship fee. Customer, however, are responsible for shipping. "This stands us out from the others," Baker says. "I don't know anybody in our industry whose doing this."