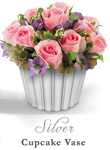 In the big box retail world of bulk bargains and generic brands, independent retailers compete best with unique products and personal service. Anybody can find the general merchandise for their daily needs at chain stores, but the products that stand out and add a special touch to the daily routines of life are more likely to be found in independent stores. With the help of Joster International, an innovator and wholesaler with a mission to invent, design and create meaningful products of quality and beauty, retailers from gift stores to floral shops can bring an element of surprise to their customers' shopping experiences. With its official first product launch in December of last year, the wholesaler has already made an impact on its participating retailers' sales, creating a customer buzz in the gift, home décor and floral markets, among many others.
Unique Home Accents and Giftware
International Home, a well established home accent furniture and accessories store in Saugatuck, MI, has dabbled in other markets over the years, including gifts, jewelry and even musical clocks. While servicing a seasonal resort town, Monica VanHarn, owner of International Home, has created a loyal customer base since the store opened in 1995. "We have a number of Chicago families frequenting the shop that have summer resorts or homes down here that have been passed down from generation to generation. We also get repeat visitors from Fort Wayne and Indianapolis," notes VanHarn. The shop's inventory is never outdated, as VanHarn is always looking for unusual and unique items, keeping it fresh for returning customers. "That is why I was interested in Joster International's cupcake vases. I started carrying them in the middle of February and they have done quite well," she says.
The product, Fleur Daily Cupcake Vases, makes a perfect centerpiece for weddings and other special occasions. Preplaced holes make these flexible cupcake vases quick and easy to decorate. The most common use is an arrangement of short stemmed flowers. The vase is not only nonbreakable, but extends the life of the flower, as its antimicrobial material prevents bacteria from getting in the water and clogging the stems. "However, I've seen these vases being sold as is, with silk and fresh flowers, or even used as displays in bakeries, holding candy or cake pops," says "J" Norness, president of Joster International. "Simply squeeze to open, fill or clean."
VanHarn's choice is to sell the vases as is. "The design and color are enough to catch the customer's eye. If I set them by the counter, a customer can just pick them up, ask questions, and feel how flexible they are," she says. With a seasonal shopping window from mid spring to late fall, International Home tries to keep its customers intrigued. "When we got our order of cupcake vases in, we made a display in the front window and positioned the vases to create a bakery scene," mentions VanHarn. "People were wondering what a home décor store was doing with a pastry window display. Customers came in, and much to their surprise, learned that the cupcakes were vases."
Some retailers like Karen's and Tina's Flowers, a florist and gift shop in the Newmarket district of Ontario, Canada, leave the guesswork out. Carrying the cupcake vases since July, florist and owner, Amanda Dell, has been offering them at an average retail price of $24.99, filling them with carnations, daisies, candy, candles and more. Wholesaling for $4.95 a cupcake or as an assorted case of 24 for $118.80 before shipping, retailers can expect to make keystone at $10.95 retail. However, designed with professional and do-it-yourself florists in mind, the vase's flower placement holes make decorating floral centerpieces quick, easy and perfect every time, allowing florists like Dell to add a personal and professional touch to each of her cupcake vases. "My shop has been in Newmarket for 50 years and is family owned and operated," mentions Dell. "Not everybody wants high end floral work and expensive vases. We are your everyday florist and gift shop, with unique and cost effective gifts like Joster's cupcake vases."
Two years ago, Karen's and Tina's Flowers had to move after decades in its original location. "We weren't thrilled about it, but the situation worked out the best it possibly could," notes Dell. Customers familiar with the old location continued to shop with the florist, while the move also brought in new customers. "It's all about creating a buzz. People call specifically for these cupcake vases, remembering they got them here, or maybe they want a fresh arrangement so they can regift the vase," says Dell. With the assorted case order, retailers will receive four of the six colors (mainly pastel). Single color dozens are also available, and are the only option for the newest colors, Gold and Silver. "I'd say 90 percent of our customers order the assorted pack. They are bright and fun and great for a display. Single color dozens are usually the preferred order for a florist doing a special event," adds Norness.
The cupcake vases are Joster International's top ordered item, but as Norness explains, "That was our first product to be launched and has been on the market a little longer than our other two product lines." Testing out Joster's Coasterica coasters, however, is Maryhill Winery in Goldendale, WA. "I ordered the coasters knowing they were a unique item, but I didn't know they would sell this well," notes Maureen Lee, retail operations manager and merchandise buyer for the winery and its gift shop. While the winery sees approximately 80,000 people a year, has been listed as Washington Winery of the Year in 2009, and is a well known destination spot, its gift shop is still an independently owned store bringing in customers with its one of a kind products. Among its inventory selection are apparel, jewelry, home décor, garden products, and of course glass stemware.
Complementary to its best selling merchandise, the glass stemware, are Joster's new line of silicone coasters. These are not ordinary drink coasters. They slip on and stay on, going wherever the glass goes, and with a medley of vibrant colors and designs, wine charms are easily replaced. "They do it all. These silicone drink coasters stretch to fit almost any size of glass, containing drips from room to room," explains Norness. Lee finds the best way to showcase these coasters is to display the four piece set with a winery glass in one to illustrate its use. "The display is right outside my office. Everyone that walks by stops to check it out," notes Lee.
Norness notes there are multiple ways retailers can showcase these coasters in their stores. There are four in each set that come in a hanging card, with a clear plastic face to show off the designs. In the front of the card is a hole so customers can feel the product as well. Some of the newer packages can be folded and cubed for stacking, or have a tab that can be placed around the neck of a bottle for gift giving. "The designs are what are really unique about this product," notes Norness. "While my wife, Rose, is the designer of all the original images, we are also looking to work with local artists. Most of our designs are on the disc part of the coaster, but we've come out with new Sunrise and Sunset lines that feature floral patterns on the outside rim of the coaster." Maryhill Winery's gift shop, however, only carries three design sets at the moment. "The Mosaic set we carry sells by far the best. The other two, the Cosmo and Good Fortune sets, sell equally as well," says Lee. At $7 wholesale per set, a retailer can't go wrong, especially when they can expect to make a little over keystone at $14.95.
To think it all began while Rose and J, founders of the company, were kayaking in Rose's home country of New Zealand. As the company website says, "It was a long way from Alaska where they had met, but the perfect place to plan for the future. They pooled their resources: Rose, full of adventure, creativity and vision; J, practical and down to earth, a man who can transform a vision into a reality. They would combine their skills to invent and create a unique range of products that were beautiful, fun and functional." Now, with just a couple products on the market, Joster International is making its impact with a broad range of independent retailers in both the U.S. and Canada. "Vaselets are our next big item," says Norness, in reference to the petite stick-on flower vase that displays real or artificial flowers. "It's a small way to brighten up any place such as bathrooms, dorm rooms and offices," he adds. Displaying his wife's designs and wholesaling the vaselets for $4.75, Joster International continues to reinvent unique, while remaining cost effective.
For more information:
Joster International
1752 NW Market St., #537
Seattle, WA 98107
Tel.: 206-501-4560
Toll Free: 888-776-6439
Fax: 206-607-6421
Email: info@josterinternational.com
Website: www.josterstore.com/Wholesale_Information_s/13.htm
International Home
360 Water Street
Saugatuck, MI 49453
Tel.: 269-857-2805
Email: intlhminfo@me.com
Website: www.intlhm.com
Karen's and Tina's Flowers
18025 Yonge St., Unit 8
Newmarket, ON L3Y 8C9
Canada
Tel.: 905-895-4752
Website: www.karensandtinasflowers.com
Maryhill Winery
9774 HWY 14
Goldendale, WA 98620
Tel.: 877-627-9445
Website: www.maryhillwinery.com