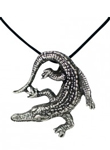 By Carol Miller
What's your spirit animal? Not only do people like remembering visited locations by picking up an animal-fashion souvenir, most people identify with a certain animal — whether it's a wild animal, pet, totem or even mythical creature.
Souvenir trends come and go, but there's one category that has real shelf life: animals. Those of us in the souvenir business have an unconditional love of all-things-animals because it's what our customers tend to identify with most. Also, children are drawn to animals and, since they're one of the strongest factors in souvenir buying, it's always smart to have a plentiful inventory.
Whether it's a national park, seaside resort, zoo or dinosaur dig site, what's going to grab your customer's attention is an animal memento. Think of any destination and I bet you'll immediately come up with an animal that relates to it, such as: Florida (alligator), Maine (lobster), Arizona (Coyote), Kentucky (horse), and Alaska (bear). The list goes on and on, just like the popularity.
Of all the categories—from Zodiac to Steampunk to Wild West Characters, EcoSmart's top sellers are animal related. Based outside of Boulder, Colorado, EcoSmart Designs (ecosmartdesigns.com) makes jewelry collections that are proudly handcrafted in the USA. The company offer thousands of items in over 350 animal-themed categories, including Into the Wild featuring wildlife animals segmented into "Plentiful," "Threatened," "Endangered," and "Extinct" categories, Sea Life, Dinosaurs, All Pets World consisting of a huge collection of dog and cat breeds, Horseplay showcasing the top horse breeds, and many more.
A unique feature of charms from EcoSmart Designs is that each one comes on a story card that gives a short background. It's a great way to learn and connect with the animal. Here's a sample: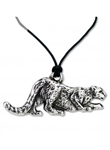 Snow Leopard
The snow leopard, known for its beautiful, thick fur, has a white, yellowish or soft gray coat with ringed spots of black on brown. The markings help camouflage it from prey. With their thick coats, heavy fur-lined tails and paws covered with fur, snow leopards are perfectly adapted to the cold and dry habitats in which they live. Very rare in most of their range, an estimated 3,500 to 7,000 snow leopards are left in the wild, with 600 – 700 in zoos around the world.
The takeaway (pun intended): Souvenirs are for taking home and conjuring up memories. As for keeping animal souvenirs in stock, we think that's advice you can take to the bank. To learn more about EcoSmart Designs visit www.EcoSmartDesigns.com