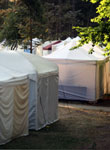 When it comes to covering ground, Creative Canopies is one company that knows how to keep its inventory moving. Its full line of fittings, canopy kits, tarpaulins and accessories raises the bar for what vendors, outdoor party hosts and other customers can expect from their canopy purchases. The recent addition of an online shopping cart to its website is an example of company progress.
Creative Canopies was inspired by the Lager family's need for a reliable and portable canopy. "The tipping point when my husband and I decided to start Creative Canopies was at a flea market 32 years ago," owner Ivy Lager explains. "Torrential rain had chased all the nearby customers under our canopy and we were the only tent to continue doing business." Recognizing this as an opportunity, the pair had a flier with canopy prices made the following week.
Lager feels that perseverance has kept Creative Canopies successful. "Whatever we have to do or change to make the business meet customers' needs we always make happen," she says. "We only carry quality products that we know are safe and we're easy to get along with." She would rather help customers expand on the size canopy they already have than show them an entirely new one they don't need. The Creative Canopies can be customized and expanded in different directions and shapes and a offer a more malleable approach to merchandizing. The company helps its customers break away from the square and rectangular tent, and its customers appreciate that approach. Creative Canopies sells through the trade from business to business at a discounted price, supplying vendors with components, full units, different types and sizes of fittings, tubing and tarpaulins.
Recently, the company updated its website to facilitate online purchases. "We hadn't had a website with a shopping cart previously because people don't always know exactly what it is that they need," Lager says. "Sometimes customers just need to talk about it because there are so many variations to the product. This year we put the shopping cart on so that people can shop without calling, and if something in the order doesn't look quite right to me I'll call to make sure there wasn't any confusion. We're very simple and straightforward, and it works."
For more information:
Creative Canopies
3237 Long Beach Rd
Oceanside, NY 11572
Tel: 516-431-4127
Website: www.creativecanopies.com