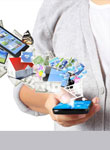 NCR, a global technology company, released results of its latest consumer study, "The Converged Retailing Experience," at the recent National Retail Federation (NRF) Convention & Expo. Chris Lybeer, VP and GM of marketing and mobile solutions at NCR, revealed that consumers want convenience and a seamless shopping experience, whether they are on the go, at home or in the store. NCR surveyed consumers in nine regions globally about the retail experience and noted the four following major trends in what consumers really want.
1. Personalization and Targeting.
Consumers want to call up coupons and discounts on their mobile devices and take them to brick and mortar shops. More than two thirds (69 percent) of respondents would welcome personalized offers and 73 percent of consumers say the availability of electronic coupons is a must. Only 35 percent of U.S retailers, however, offer electronic coupons. Of note, people do not want offers that don't apply to them; they want targeted offers based on their buying behavior. Consumers want to be thanked for their business and asked what products they are interested in as well as how often they would like to receive emails.
2. Buy Anywhere, Get Anywhere.
Fully 78 percent of U.S. shoppers want to have their purchases delivered, or be able to pick them up, anywhere. Shoppers also expect a convergence of the shopping experience. "They view you as one business," Lybeer shared, "and you need to manage your business in one ubiquitous way. Retailers need to embrace the digital age, define their brand identity and push it through all digital channels. It all needs to look the same to consumers."
3. Self Service Checkout.
Consumers want independence and control. Smartphones give consumers information and eCommerce gives them control. Some 44 percent of survey respondents said they would take advantage of self service lanes. Yet, of general merchandisers, only 19 percent in the U.S. provide in store self service options. "Apple is doing it," Lybeer pointed out.
4. Mobility.
"Retailers must build their websites for mobility and in a way that adds value," Lybeer continued. "Our research shows that 64 percent of consumers in North America want mobile scan and pay, yet only 12 percent of 'favorite grocers' do this. Consumers will demand this in one to three years and retailers must comply. The time is now."
Mobile enables the first three points above, according to Lybeer. Commerce is going from B2C to C2B and retailers must define their brand identity, and develop a centralized, connected marketing plan. "'Big Brother' is okay in a respectful, timely way, yet the gap in the consumer experience and retailers' offerings is growing," Lybeer concluded. "Retailers who close the gap will be successful."