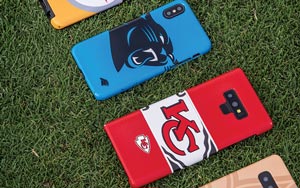 Cell phone cases are such a hot commodity, but very hard to purchase in bulk since phone models are constantly changing. Skinit Acquisition, LLC makes it easy to purchase fun and trendy cell phone cases with their dropship and made-to-order business opportunities. Also gaming, laptop, and audio product skins/wraps are very popular. From consumer favorite licensed brands (Sports, Collegiate, or Entertainment) and fun designs to custom brand styles, they can satisfy all of your case needs.
Quality Skins & Cases Galore
Skinit is the industry leader in personalized and branded products for electronic devices. Based in sunny San Diego, they create quality cases and skins to protect any smartphone, gaming device, tablet, laptop, audio device, and more. You can offer your customers cases and skins to show their passion with branded designs, or create something unique for your business to sell. Utilizing state-of-the-art machines, the company uses dye sublimation to print high quality products.
Low MOQ's & Dropship Opportunities
What makes Skinit so great to work with is the fact that they are a made-to-order company. With small minimum order quantities and a quick turnaround, there is no need for massive purchases that will inevitably get stored in your backroom for months, and then before you know it, a new cell phone model will come out. Combine those delicious factoids with their dropship program, and it is a no brainer — Skinit can cater to all of your case and skin needs. All products are printed daily in their headquarters in San Diego.
Delivering High Quality Licensed Goods
From their humble beginnings back in 2003 to today, Skinit Acquisition has turned into an industry leader in personalized and branded cases and skins for consumers and retailers alike. The company started by offering skins for mobile phones, laptops and game devices, and then once the first generation iPhone was released in 2007, they changed gears and started offering personalization options to their skins, as well as phone cases. No matter the product, Skinit can customize just about anything and quickly ship it right to your door. To view more of what the company has to offer, visit their website at www.skinit.com.
Skinit Acquisition LLC
8969 Kenamar Ct #108, San Diego, CA 92121
Tel.: 866-380-8130