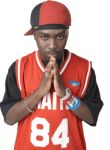 Specializing in clothing closeouts and overruns of first quality and irregular products, Angelo's Fashions, Inc. is a North Carolina-based wholesaler of sports merchandise. At the company's website, located within WholesaleCentral.com, one will find a broad selection of licensed sports products, T-shirts and sweatshirts, in addition to religious and resort prints.
There is a minimum order of $100, but with such an impressive offering of products ranging from Major League Baseball (MLB), the National Football League (NFL) and National Basketball Association (NBA) to NASCAR, Harley Davidson and the National Hockey League (NHL), such a minimum is very easily reached. And for many of the products offered, quantity discounts are offered as well (look for the asterisks).
Angelo's Fashions accepts orders by Visa, Mastercard, COD and certified check, and even accepts orders in Spanish. The company also accepts returns of any product, provided that adequate authorization is given. For more information, contact Angelo's Fashion directly at the company website.
Contact:
Angelo's Fashions, Inc.
308 Okeechobee Road
Wilmington, NC 28412
Ph: 910-452-7706