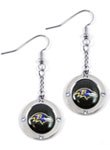 Licensed sports products are popular sellers among men, women and children of all ages. Patter's Collectibles caters to this category with a constantly refreshed and expanding line of specialized sports collectibles, novelties and apparel. "Our products sell very well in sports shops and make great gifts," states Edward Patter, owner. "The biggest sellers are our earrings, which start at $2.50 a pair. They are consistently popular, and we offer a variety of designs for all the leagues and teams. The most popular style we brought out last year is the heart swirl earring, and we expect that to continue to be a strong seller this year." Heart swirl dangle earrings wholesale for $2.75 a pair, and are available in more than 25 NFL teams, and some college and baseball teams as well. "We are adding new teams to the line because there is such a high demand," Patter notes. Other top sellers include lanyards. "Ours have a breakaway feature on the back, and a clip and key ring, and people use them to hold badges and keys," Patter notes.
Car flags & emblems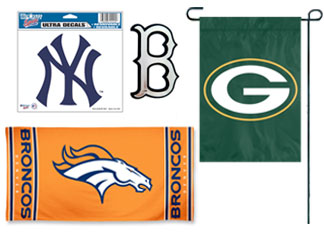 During the NFL Playoffs and bowl games season, decorative eye black face stickers are expected to be popular. "They are always a big item," Patter shares. A six pack of vinyl stickers wholesales for $2. "Our flags and car accessories are hot items in spring. People enjoy getting outside, and they like decorating their cars with their favorite teams' logos. We expect the chrome plastic and aluminum emblems to sell well. Beach towels are always very big at the beginning of spring, too, because people start thinking about vacation. We have the majority of NFL teams, plus a selection of baseball, hockey and basketball teams."
The Fathead's revolution helmet wall decal is another top seller, and is great for a kid's room or man cave. The wall decal does not require nails for hanging, is repositionable, and is available in around 30 NFL teams, as well as major college, hockey, baseball and basketball teams. Made of high-grade vinyl that is tear and fade resistant, the decals wholesale for $5 each. The typical markup for all Patter's Collectibles merchandise is double the wholesale price.
Drop-shipping program
Patter's Collectibles has been distributing officially licensed products for five years, and is developing a drop-shipping program. "We have had a lot of requests for that, and we expect to have one in place by summer," Patter reports. All merchandise is sold via the website, where buyers will find a catalog and wholesale pricing. "We have a good selection of quality merchandise at reasonable prices. Our products are priced at or around manufacturers' prices, but we do not have a minimum order," Patter points out. "That allows people to try out our merchandise and feel confident that it will sell before they place a larger order. We would rather they test out their market, and come back and buy again from us." Orders generally ship within 24 to 48 hours.
Where to buy:
Patter's Collectibles
Tel.: 412-916-2456
Website: patterscollectibles.com