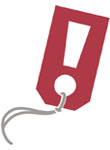 SnapRetail is a time-saving marketing solution designed to help independent retailers tap into the power of viral marketing. The company offers a huge assortment of ready-to-use campaigns, and pre-written social media posts and email templates. SnapRetail was founded in 2010, when CEO Ted Teele and a team of experienced retail industry and technology professionals saw the need for retailers to compete more effectively online with big box stores. SnapRetail drives traffic to independent retailers' stores by facilitating professional online connections, while freeing merchants to focus on other aspects of their business.
"Our product offers a tremendous time savings because we do it all, including writing subject lines, headlines, email body copy and social media posts, and suggesting events."

Suzy Teele, COO
"Our product offers a tremendous time savings because we do it all, including writing subject lines, headlines, email body copy and social media posts, and suggesting events," explains Suzy Teele, COO. "We work with thousands of retailers. They want to present their stores in the best possible light, and that requires some proficiency in creating a social media post that gets a reaction or properly structuring an email to get a good open rate. These are skills that retailers generally do not have, as they excel in other areas. We make it easy for them to present a high quality online image, while not spending a lot of time or money. Our customers tell us that it used to take them three or four hours to create one post or email, and now they can schedule an entire month's worth of marketing using our unique calendar, in that same amount of time. Not only do they report saving time, our customers say they have seen an increase of 15 to 20 percent in overall sales."
Enhanced library has ten times more content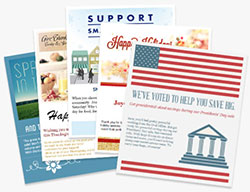 "In December, we launched a completely revamped social media library with ten times more Facebook and Twitter posts and images," Teele shares. "Facebook is a very successful universal social media tool, because of its wide reach in all age groups and demographics." SnapRetail also provides Pinterest support. "Retailers love using Pinterest," she adds. "They create an email and put images of their products with a little 'pin it' button in the email, and when customers receive the message they can pin those images onto their boards. Pinterest is the tool of choice if your target audience is women between the ages of 30 and 50." SnapRetail will also be providing Instagram support in 2014, and merchants will be able to embed links in their emails to their Instagram accounts and say, "Track me on Instagram." The company also enhanced its email templates in 2013. "We are the expert in all the online marketing tools, and we stay on top of social media and email marketing trends. We also offer educational webinars every month," Teele notes.
Easy scheduling with drag and drop calendar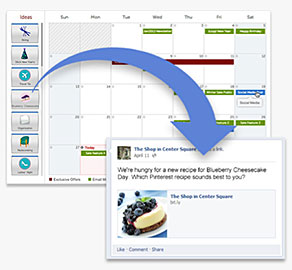 To get started, retailers provide their store's information, and this data is then wrapped around all the promotions they choose. About six weeks before a specific holiday, merchants receive a promotion kit filled with marketing ideas. Using SnapRetail's unique interactive calendar, they drag and drop the promotions they select onto the days that they want those messages to go out. Business owners can get access to all SnapRetail's solutions for less than $3 a day. An annual subscription is $999, and a quarterly sub is $329. Readers who go to SnapRetail's website and mention they learned about the company in Independent Retailer magazine, and then view a 10-minute demo, will receive a $25 Restaurant.com gift card. To learn more, visit the company's website, or meet them at one of the many trade shows where they will exhibit this year. In January, SnapRetail will be at the Philadelphia Gift Show, Atlanta International Gift & Home Furnishings Market, Seattle Gift Show, The Halloween and Party Show, The American Made Show, Chicago Gift Market and Las Vegas Market.
SnapRetail
Tel.: 877-459-SNAP (7627)
Website: www.snapretail.com