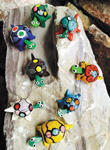 Loose-neck animals are tiny, handcrafted novelty items made out of limoncillo pits. Ross Freitas has imported these fun critters from Mexico for twenty years. The most common loose-neck is a turtle but they come in many assorted animals. Local farmers and indigenous peoples of the area in Mexico make loose-necks by gathering limoncillo pits in baskets and laying them out to dry. Next, they are sanded to smooth the surfaces and flatten the bottoms of the round pits. A pick and scoop are used to clean out the inside of the hard core. Then, they carve the head out of real wood and individually hand paint each and every one of the heads. Lastly, they attach the legs and tail. The entire body is then coated with a protective seal and after they're completely dry, the real artwork begins. Each and every loose-neck is hand painted to perfection with lead-free paint.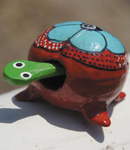 Each loose-neck is made with great care and craftsmanship, ensuring no two are exactly alike. The critters are a top-selling impulse items for many gifts, novelty, toy, beach, specialty, and general merchandise retailers. Shoppers have fun picking out their favorite colors and patterns. The loose-necks wholesale for between sixty-five cents to ninety-five cents depending on the size and color and can wholesale for up to $3.99, ensuring great margins for retailers. Loose-necks are especially popular this time of year at tourist, beach, and souvenir shops as families are traveling and taking summer vacations.
"Your customers will love to collect these highly sought-after souvenirs and novelties," says Freitas. "These products are in very high demand. Not only are they all natural, eco-friendly, handmade, and hand painted with love, they are also super cute." For more information, visit www.LooseNeckLand.com.