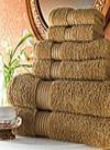 When it comes to luxury products, bed and bath items have always had strong appeal. One of the companies available to fill this need for luxury in your customers is MB Distributors, a supplier of bed and bath goods which is relatively new on the scene. Based out of Illinois, MB Distributors is actually the wholesale component of Mici's Boutique, a bed and bath retail store which can be found online at www.shopmici.com. Mici's Boutique has been around as an independent retail outfit since 2005, with owner Stephanie Walters experiencing such success that the new wholesale site, www.mbdistributors.com, was recently opened up.
Just as Mici's Boutique has always striven to deliver the highest value to customers, suppliers, employees, contractors and wholesalers, so too does MB Distributors reach for the same goals. The company is serious about surpassing the competition in terms of quality, innovation and value. MB Distributors does this by focusing on specific product lines, all falling under the bed and bath category.
The three main product lines supplied by MB Distributors are bed sheet sets, shower gels and towel sets. These items can be purchased per case, or per pallet. For more information on specific pricing, buyers are encouraged to browse the website. For customers looking for comfort and luxury in their bed and bath items, MB Distributors is a one-stop source of product supply you can use to help meet their needs.
Contact:
MB Distributors
17058 Prince Drive
South Holland, IL 60473
Ph: 708-288-1918
Website: www.mbdistributors.com