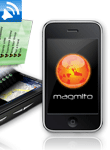 NRF Stores magazine highlights that 2011 was the year for smartphones, tablets and consequently, m-commerce. As a result, this increasingly popular browsing and shopping channel continues to influence retail industry forecasts for 2012. As Stores columnist, Susan Reda, writes, "Much of the excitement around mobile isn't [even] about transacting, it's about influence, providing the local information shoppers are seeking about a store and being part of the conversation. Shoppers are channel-agnostic; they expect interaction from their mobile devices and the time to deliver is now."
Big box retailers will have no problem meeting mobility demand, as they are well prepared with large marketing budgets and personnel. Independent retailers, however, who have their money tied up in inventory usually find themselves with a much smaller marketing budget and more often than not, do-it-yourself (DIY) campaign projects that take up time and resources. However, as these retailers finish out the fourth quarter and prepare their 2012 business and marketing plans, m-commerce is being discussed as an indispensable necessity to successfully communicate and connect with consumers. And while not everyone is digitally savvy and well versed in mobile technology, it's mobile content creation solutions such as Magmito that help those entrepreneurial, DIY retailers think beyond their brick and mortar storefront to consider a world of mobile possibilities.
Magmito Makes Mobility Real for Independent Retailers
As the content creation site boasts, "Magmito is a mobile application generator that is easy-to-use and helps its users produce rich and engaging eco-apps that can be viewed on any mobile phone, from Android to iPhone and everything in between." Targeting the DIY community and small to mid-sized business (SMB) users, Magmito enables anyone to create rich and engaging apps to promote products, services, events, etc. For free app development, your Magmito app will be required to feature unobtrusive advertising relevant to the target audience. However, for the low cost of $99, Magmito offers an interactive app free of ads, and affordable for those tight marketing budgets.
Magmito's coined "eco-apps" are economical (to produce), ecological (saves trees) and are an integral part of the mobile ecosystem. Apps can be created and published in just a few hours, and updated with new specials as often as needed. They can also easily be distributed through auto-generated QR Codes, popular app stores, Facebook, Twitter, SMS, email-to-mobile and more, depending on a retailer's marketing plan. Magmito delivers apps both as a native app or Web app for all J2ME, Android, Windows Mobile and Blackberry devices. IPhone users automatically get an enhanced Web App version, avoiding the Apple approval process.
For more information:
DIDMO USA
Naples, FL
Tel.: 239-963-9396
Website: www.didmo.com