By IvyLee Rosario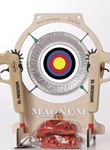 For Magnum Enterprises, being a "Made in the USA" company is an integral part of their identity. As the nation's leading seller and manufacturer of rubber band guns, this company prides itself on the commitment they have made to support the American economy. "We experimented with Chinese imports and it just did not work out well," says Dan Smith, President. "We have found that a lot of customers are looking for 'Made in the USA' products and we do our best to not only stimulate the economy, but also provide employment for people in the local area."
With a diverse product line that is all handcrafted in the USA, Magnum produces a whopping 500 to 1,000 rubber band guns per day. The company sells a wide variety of merchandise, from rifles and bow and arrows, to pistols and marshmallow shooters. Among their most successful items you'll find their Magnum 45 style rubber band pistol, and AK47 and M16 model rubber band rifles.
"Many of Magnum's rubber band gun models simulate real world gun styles. Other models are fictionally created. Magnum's rubber band guns sell the best because they work well, they look cool and they have a style for all desires and ages," declares Smith. "Customers love these because they create the romance of a simpler time before technology. These toys allow children to project themselves into a role where they can imagine themselves as a policeman, a cowboy, or a Special Forces fighter. They can create a world for themselves with our product."
Magnum Enterprises wholesale prices range from just $1 for an ounce of rubber band ammunition to $25 rifles. All products are designed for a 100% suggested retail mark-up price. The company prefers minimum orders of at least $300, but is flexible with new customers who want to try out a mix of product. "We want to help storeowners get the product mix they need to better balance their inventories, so we try to cater to our customer's order requests with no minimum quantity requirements for any single SKU," remarks Smith.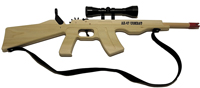 In the future, the company plans to develop additional displays for their customers to enhance sales in store, as well as adding new models and continuing to enhance current models and styles. Magnum Enterprises also plans to continue generating quality merchandise as well as catering to their clients needs. "We believe customer service is everything; treating the people right, fairly and honestly," says Smith. "Being responsive to our customers with any questions or issues they may have is necessary for good rapport. We have many long-term customers that have been with us for 20 years or more. We make sure to stand behind our products and also work with our clients to produce the best result."
Timeliness is also a huge factor when it comes to being a "Made in the USA" business, something this company does not take lightly. Making sure their products are made and shipped out as soon as possible is very important, says Smith. "It is hard to be an American manufacturer, the cost of doing business is high. In order to make a profit we have to put out a high volume of merchandise. Most of the units we make sell that same day."
Although it may be challenging at times, Magnum Enterprises works hard to provide the best experience possible for their customers. "People are impressed with what we produce and how we operate," shares Smith, "It makes a positive statement and impact. Many see the made in America factor as an added bonus." Smith declares his products to be, "Timeless-Classic American Toys." For more information, visit www.rubberbandguns.com or call 605-719-9488.