by Ryan Stewart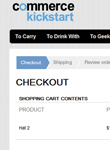 Running an online store is no small thing. First you have to construct a site. Then you have to invest in and manage your inventory, which is an expensive endeavor (see Amazon). By the time your site is finally up and running, you're flat broke! And who has the extra money to hire a marketing firm to get their products out to the entire Internet? I know I don't.
I have, however, managed to find a few simple ways to showcase my store and close sales. Here are a few simple principles that will help you market your store to prospective clients without breaking the bank.
Make the checkout process seamless
There's nothing more annoying than getting held up at the checkout. We're not in 1996 anymore, when people limped around the Internet using dial-up service. If a YouTube video fails to load in 10 seconds, people are taking their eyeballs elsewhere. At a brick and mortar store, people will complain about slow service, but they'll put up with it. In your eCommerce store, you've lost the sale.
Unlike the local big box store that can invest money in extra cashiers to expedite checkout, you must make your checkout process seamless and simple with a few clicks. The easier it is to check out, the less likely customers are to abort their purchase. Quick checkouts = more cash in the bank. Here are a few tips to make your checkout simple in order to boost those online sales.
Don't require users to register for your site in order to check out.
While contact information is helpful, research shows that customers leave their carts and move on when they have to register. Give them a guest checkout option. When shoppers do register, let them save their information. When they return to shop again, their checkout is much faster, which will bring them back in the future.
Make the process visual by adding checkout phases.
Break up the checkout into phases so that customers feel they are making progress. When the checkout is visual, customers understand that they are getting closer to being finished.
Now, I realize you probably don't have a developer on call to make this happen for you. Luckily, there are companies like Shopify (www.shopify.com) that offer one click plugin products to handle this for you.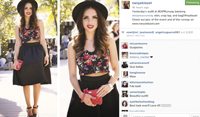 Make product recommendations at the checkout.
Upsell, upsell, upsell!
Amazon's product recommendation engine is absolutely brilliant. Just prior to me paying, Amazon splashes a host of closely related products up on the screen. The result? I end up shelling out more money than I initially planned. Right before your customers pay, upsell them on related products. Give them deals they won't get anywhere else. Convince them that they have to have the warranty or the cleaning solution or whatever it is that you want them to buy. They are already in a buying mindset, which gives you a psychological advantage.
Give products away for free
If you've got a limited marketing budget you should seriously consider influencer marketing. Influencers are incredibly powerful because they serve as online referrals. If you can connect with the right ones, you can drives tons of motivated traffic to your website.
Personally, I love using Instagram for influencer outreach because most people are willing to promote your brand simply for giving them the product for free.
I use a simple process to find influencers:
1) Head over to www.shopify.com/domains and type in some keywords related to your product.
2) The platform will return the latest content with that hashtag.
3) Sift through the posts (this takes time) to find ones with high engagement.
4) Those highly engaged posts generally belong to someone who has a large, engaged following.
5) Most influencers have a contact email in their bio. If they don't, you can send them a direct message.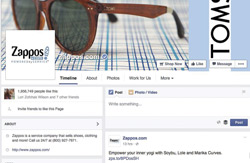 Simply let them know you love their content and ask them if they're interested in checking out your product, free of charge. This can be a lot of work on your end but I promise you, it's well worth it.
Take advantage of online advertisements
Social media is a gateway to closing sales and promoting your business at an extremely affordable price. The beautiful thing is that it targets consumers suited for your store on its own. You don't have to do anything. Just purchase the ads and let social media work for you.
Many social media sites offer ad budgeting options, meaning you can set a daily budget (some start as low as $1), and then when your budget for the day is spent, your ad quits running. It's a great way to stay within your means while still reaching out to potential customers online.
Facebook ads are a tremendously effective way to find customers at an extremely low cost. I don't want to hear the argument "my customers aren't on Facebook." Mark Zuckerberg posted a status a few weeks ago that announced Facebook had reached a new milestone. For the first time in the history of the network, 1 billion users were logged in at the same time. 1 billion users. Your audience is on Facebook, trust me.
Build a community of loyal fans
Invest your time in building a community of fans. If you own a business, you need to have a social media page, and you MUST work to build a following. People who like your page and share your page are doing your legwork for you, so it's literally a free marketing tool where others work for you.
Keep your social media up to date. Post upcoming sales, offer coupons, and promote new products on your page. Encourage your fans to share your information with others, and it will spread the word quickly about what you have to offer. Build email lists and run email marketing campaigns. There are tons of free email newsletter creators online that can help you design and email you fans.
Create quality content
Quality content on your page is one of the most important marketing techniques you can have. As in a brick and mortar store, your customers want to feel like they matter. Quality content that speaks directly to them, not down to them, creates that connection.
Talk about what you believe in with regard to your products, and then tell customers why they need those products. If your content is just trying to hard sell customers, they'll be just as turned off as they would with a pushy salesman in a store. Be creative, be genuine, and be yourself!
Conclusion
If ECommerce were easy, every joker and his mom would do it. It requires strategic thinking and careful execution. Small mistakes, like a cumbersome checkout process, can cost you serious cash. But with thoughtful implementation, you can create an ECommerce store that creates significant revenue for you.