By Timm Walsh

Retail marketers plan all year for winter holiday promotions, which are the most fiscally lucrative part of the year. Before Halloween is even over, the chatter about Black Friday and Cyber Monday begins. But what happens when the holidays are over? What can be done to maintain presence with shoppers and boost revenue during the "non-peak" shopping times of the year?
Research from the Retail Gift Card Association (RGCA) reveals that quieter retail months are actually prime time to market an evergreen product that boosts foot traffic and is an important contributor to the bottom line: gift cards.
The shopper research found that gift cards' popularity is not diminishing and the demand for gift cards is constant, unlike any other retail product. They remain the most requested and given gift in the U.S. whether in the form of physical cards or eGifts. More than 80 percent of the population plans to give gift cards this year for various occasions, and the vast majority of shoppers like to give gift cards because they can be assured the recipient will be able to purchase what they prefer. Recipients also enjoy receiving gift cards, and most consumers surveyed credited the ability to purchase what they want as the top reason they like getting gift cards.
Not only do Americans like receiving gift cards, but they don't like to wait too long to redeem them: nearly 60 percent of shoppers wait a month or less to redeem, translating to more potential foot and web traffic during non-peak shopping times like after the holidays.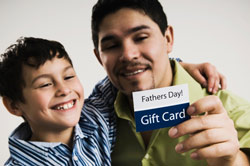 Gift cards also boast a unique distinction in the retail industry: 89 percent of shoppers will buy gift cards without a promotion or deal being offered. In a world of discounts and comparison shopping, gift cards are among the last remaining products that consumers will buy simply when they want them, versus waiting for a discount. Which is why it is important to not forget about your gift card program in off-season times, and to remind shoppers what versatile, timeless gifts they are for any gifting occasion.
Finally, the research found that as many as three quarters of consumers shop for themselves when they shop for gift cards, and of this group 73 percent will spend more than $20 in addition to the gift. So not only do gift cards offer retailers a product that does not need to be discounted in order to sell, but it also comes with the promise of incremental sales potential via whichever channel the shopper chooses.
While your marketing team is recovering from the winter holiday season and planning for upcoming occasions like Mother's Day and Father's Day, keep in mind that gift cards are always marketable and can be a profitable category to bridge the gap between big shopping occasions. Be sure your consumers know about your gift card offerings and that they are clearly promoted in store and via your other channels. It's likely that shoppers purchasing gift cards will spend incrementally, as well – making it a little less difficult to get back in the black come the next holiday season.