By Meaghan Brophy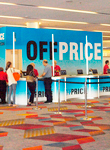 Over the past few years, the off-price industry has seen tremendous growth. Major retailers have jumped on the bandwagon, opening off-price sections for their own brands. JCrew, Macy's, Lord and Taylor, and Nordstrom are just a few who have joined the movement. T.J. Maxx, Marshalls, and HomeGoods are all successful major retailers who sell exclusively off price merchandise. Although off price is quickly gaining popularity, one thing is clear: off price is here to stay. As a retailer, one of the most valuable resources for sourcing off-price merchandise is the OFFPRICE Show during Las Vegas Fashion Week.
OFFPRICE is a dynamic order-writing show that connects buyers with off-price specialists selling merchandise 20% -70% below regular wholesale rates. The products displayed at OFFPRICE consist of apparel, shoes, and accessories for men, women, and children at a variety of budget and brand names. Originating in 1995, OFFPRICE started with 24 exhibitors in guestrooms at the Debbie Reynolds Hotel. 21 years later, the show now occupies the entire lower level of the Sands Expo at Venetian/Palazzo. This year's show, running from February 14-17, boasts more than 500 exhibitors spread over 1,375 booths and 137,500 square feet.
Whether you are a seasoned OFFPRICE buyer or are considering attending for the first time, the most important advice CEO Steve Krugulski can give you is to prepare. "Come with a game plan. Know how much you're looking to invest. Come looking to make a deal, come looking for specific products. There may be limited quantities, so come ready to execute." There is an OFFPRICE show app that will be available on the Apple app store before the show. The app features different exhibitors, so you can scope out products and do some research ahead of time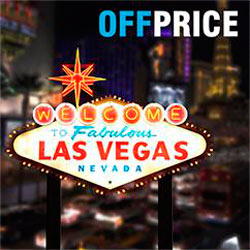 New for this year, OFFPRICE will also be expanding their social media area located within the "Revive" healthy option food court. There will be live tweeting, so you can share your experience and see instantaneous feedback from other OFFPRICE attendees. There will be selfie backdrops with the OFFPRICE logo. Most importantly, there will be designated hashtags linked to specific product categories on the show floor. This provides buyers with another way of viewing what is available on the show floor at all times.
If you are a new attendee, or would like a refresher on some show tips, be sure to register for a buyer tour on the OFFPRICE website. The tours will take place periodically over the first couple of days. Expert buyers will take you around the show floor, give you a breakdown of the show, and help you understand the buying process.
OFFPRICE Las Vegas runs Sunday – Wednesday. According to Krugulski, Monday is always the busiest day of the show because it is the first day of Las Vegas Fashion Week. To scope out the deals early, attend OFFPRICE on Sunday the 14th before the rest of fashion week opens in order to beat the crowd. This year in particular, many vendors will be featuring outerwear and cold-weather wear. Krugulski advises, "There are always new products. Always new opportunities. We won't even know all the deals that will be available until the day of the show," he continues. "Looking at the weather, there should be lots of good deals on outerwear." This season's warmer weather has led to a surplus in winter wear. Take advantage of the markdowns and stock up not only for this season's impending winter storms, but also for next year.
OFFPRICE produces a second show every spring called OPNYC. The show is held in Manhattan at Gotham Hall on 36th and Broadway May 2 and 3. OPNYC is a smaller show with 65 vendors, and a much more intimate environment. Todd Fabos, Marketing Manager for OFFPRICE, says OPNYC is "a great time to reconnect with vendors and really get to know everyone." The show is located right in NYC's Garment District; many vendors have showrooms less than two blocks away from OPNYC. It's a good opportunity to personally meet exhibitors, visit their actual showrooms, and replenish hot-selling items.
"The most important thing is the opportunity that exists for retailers.," stresses Krugulski. " No matter what type of retail environment you are, there is a lot of opportunity to find exciting product, add on to what you have, or even branch out into a new category. The fastest-growing part of retail is the off-price value sector. This is evident through all the main stores opening up off-price sections. Everyone wants to be in the value space. This something we've been providing for retailers for over 22 years." For more information and to register for OFFPRICE, visit the show's website at www.offpriceshow.com.