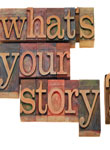 Two brothers bound through a field, a basket of peaches in tow. As the sun beams down on their freckled faces, a voiceover divulges that these boys are part of a family with a passion for making the most scrumptious fruit preserves, and that, "With a name like Smucker's, it has to be good." The audience is assured that these wholesome young men are responsible for each and every jar of Smucker's jam in the grocery store, and the heartwarming story behind the product results in improved sales for the J.M. Smucker Company. Though the company utilizes television, web and print space for advertising, what makes the brand memorable is the backstory, and the good news is that every company has one.
There is a great story behind every business that can be wielded as a marketing tool. These details can make all the difference when customers are trying to decide where to shop, what to buy and whether or not they will become loyal to that brand or store. These stories may be related to a new product or about the company's history, or even a testimonial from a customer, but the point is to allow marketing materials to be both personal and customer oriented. These details will help not only with publicity and branding, but also with sales within brick and mortar stores. Every employee encountering customers should know the backstory of the company and be able to tell it with genuine interest. Another example of a compelling backstory is Elizabeth Taylor's White Diamonds fragrance, always bringing luck to the wearer. Fragrance companies have mastered the art of the backstory, but there are several tips that can help retailers give shape and definition to a marketing story of their own, including:
Be deeply familiar with all products and services offered by the company.
Since each product is an opportunity for a story, it is beneficial to ask questions and research every item or service that could be a potential sale. If something has value, do the necessary digging to be able to explain why. Then do so in an interesting way. Thinking abstractly about the business and its offerings is useful when the time comes to assemble an engaging marketing package.
Think of customers as an essential resource rather than an audience.
In truth they are both, but in the interest of composing a memorable anecdote, filter through any or all testimonials the company has received. If none are available, make a habit of engaging customers in conversation as often as possible, in order to gain a more thorough understanding of how the business is perceived. If a customer expresses interest in sharing his or her story on behalf of the company, jump on the opportunity. Remember to keep details sharp, not to embellish the facts, and to use powerful language. Don't "tell" the business's backstory when you can "enchant" with it.
An effective marketing story is memorable, meaningful and magnetic.
Telling the history of a company, brand or product is just as important as the vehicle used to transmit the story, whether it's television, social media or printed advertisements. It isn't necessary to choose only one story, however. Take the Martin Agency as an example. The Martin Agency is responsible for the cavemen, geckos, and talking cash stacks of Geico Insurance, among other plotlines, and though it may seem that too many brand identities for one product could render all identities useless, the exact opposite is true. Whether, "it's so easy a caveman could do it," or a gecko promises to save customers 15 percent or more on car insurance, the assorted stories show different facets of one company and therefore attract an even broader audience. Retailers can emulate the same approach by telling the company's history on television, explaining a new product on Facebook and featuring another product in print. If the story is strong enough then it will be effective, and the impending sales will prove it.