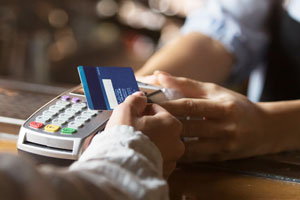 by Mastercard
Consumers are shopping with intention this holiday season and prioritizing small and local businesses, according to a new Mastercard survey. In response to this growing desire to support Main Street and shop with meaning, Mastercard is rewarding cardholders when shopping local through a series of holiday campaigns in select cities nationwide.
Unique Shopping Incentive Programs
According to the survey, shoppers are focused on not only giving (73%) but also receiving (70%) gifts that support local businesses. In addition, survey results showed that consumers – particularly Millennials (82%) – plan to be more conscious about where they shop this holiday season, prioritizing brands that match their personal values. Sixty-four percent of shoppers plan to support black-owned businesses, while 65 percent say they are planning to shop at women-owned businesses.
To encourage cardholders to make their gift-giving and receiving more meaningful this holiday season, Mastercard has created unique shopping incentive programs across six cities. From offering two percent cash back from eligible merchants, to 20 percent statement credit for transactions made at participating small businesses, to priceless surprises distributed at participating businesses, shoppers have even more reason to shop, share, and support their local brands. The Mastercard holiday shopping campaigns are now live in select cities across the United States, including:
Los Angeles and New York:

When shopping at the more than 750 eligible participating small businesses in Los Angeles and New York, Mastercard cardholders will receive a 20 percent statement credit for transactions made at such eligible participating small businesses through December 31, 2021, or until the total amount of statement credits reaches $100,000 in each market. For more information on the participating businesses or how to opt in, card holders can visit insolidarity.mastercard.com.

San Diego and Pittsburgh:

Through the Mastercard Local™ program, Mastercard has partnered with California Coast Credit Union, Mission Federal Credit Union, and Clearview Federal Credit Union to provide eligible cardholders in San Diego and Pittsburgh an automatic two percent cash back and additional bonuses when making purchases at participating small businesses. For more information on the participating businesses or how to opt in, card holders can visit www.mastercard.com/local/home.

New Orleans:


Through its Homegrown Holiday campaign, Mastercard is supporting businesses in seven high-impact, disinvested New Orleans neighborhoods. To encourage patronage of the small businesses located in these communities, Mastercard is providing 50 participating merchants each with a $200 gift card to be awarded to one select customer through the end of the year.

Birmingham, Alabama:

In partnership with the City of Birmingham Department of Innovation and Economic Opportunity, Urban Impact, and other community partners, Mastercard is launching the Black Business Holiday Spending and Rewards Campaign to help incentivize shoppers to purchase from local, black-owned businesses. Customers can leverage the technology platform provided by Urban Impact to verify purchases and qualify for rewards directly from their mobile phones. For more information on the participating businesses or how to opt in, card holders can visit

www.buyblackbham.com.
"Small business owners have shown exceptional resilience in the face of the pandemic's challenges, but for them to thrive, they rely on the support of shoppers in their local communities," Cheryl Guerin, executive vice president of North America Marketing and Communications at Mastercard, said. "As part of our ongoing efforts to help people shop, share, and support small business, Mastercard is supporting local market programs that give consumers ways to make their own holiday shopping a force for good."
Helping Local Communities Thrive
These initiatives build on Mastercard's commitment to helping small businesses, through and beyond the COVID-19 pandemic. In April 2020, Mastercard pledged to invest $250 million in financial, technology, product, and services support over the next five years to small businesses in the United States and other markets where it operates, supporting the vitality of businesses and the financial security of their workers.
"Small businesses have been at the heart of the economic crisis created by COVID-19 and there has been a huge response by public and private sectors to keep main street alive and come back stronger," Miguel Gamino, executive vice president of Enterprise Partnerships, Global Cities at Mastercard, said. "We all need the backbone of the economy in place. By partnering with cities and local municipalities, we can reinforce the importance for us to shop more consciously, supporting those businesses that help our communities thrive."
Specifically, the Los Angeles, New York, New Orleans, and Birmingham programs further build on Mastercard's previously announced half-billion-dollar In Solidarity commitment to support black communities and businesses over the next five years.