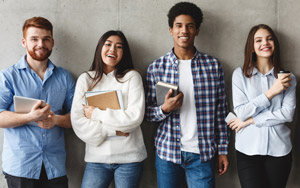 Each generation of consumers have their own needs and desires as well as how they want those needs and desires to be promoted to them. Millennials brought about a lot of change in the retail industry, and with Gen Z having similar desires albeit slightly different, the consumer demographic as a whole has shifted entirely.
Goodbye HENRY, Hello CARLY
Marketers have been talking about the HENRY (high earner not rich yet) consumer for years, but there's a new consumer demographic that retailers must focus on now – the CARLY (can't afford real life yet). While CARLY's can't afford everything yet, she has the potential to become part of the largest purchasing power generation ever known.
Uncovered in a recent report from owned marketing platform Klaviyo and Future Commerce, the CARLY is taking the retail world by storm as HENRY's polar opposite and is representing many Gen Z consumers with a mindset that is "fueled by the ephemeral, viral nature of video and chat services like TikTok and Snapchat" and "finds affinity with brands that encompass her way of thinking: celebrating diversity, allowing the consumer to bring their own ideals and experiences."
HENRY vs. CARLY
In order to understand the CARLY consumer, you have to understand the HENRY consumer. The high earner not rich yet describes a kind of consumer who has a lot of disposable income. "CARLY is not just a Gen Z consumer, but a segment of Gen Z consumers," Philip Jackson, Co-Founder of Future Commerce, said.
"Where HENRY is a higher earner not rich yet, CARLY cannot afford real life yet. She tends to find brands that line up with her ideals and looks to buy a premium where she can. She hasn't really started her career yet and most likely has student loans, but she doesn't have to worry about the big expenses in life and she can spend disposable income on different things."
Marketing to Both Consumer Demographics
Without completely butting out the HENRY consumer, Joe McCarthy, Director of Performance Marketing at Klaviyo, says brands can cater to both demographics by just continuing to be authentic. Part of the marketing strategies for retailers today includes telling your personal story of how you got to where you are now, and just staying true to your values.
"That authenticity is really key in both HENRY and CARLY. They look to those things and stand by them and truly only purchase from those types of brands," McCarthy said. The brands that are doing well with marketing currently, they're much more experiential and not just simply focused on selling the product and leaving it at that. Brands are trying to keep their customers engaged, mostly through social media, even if they're not purchasing anything.
What is the CARLY Consumer Looking For
Even though product interests have definitely changed due to the COVID-19 pandemic, CARLY consumers still have their eyes on certain types of products. "I see CARLY purchasing a lot of the basics, whereas with other groups of consumers, it was more paramount for them to have a name or logo on the product they're purchasing. They're not overly branded, especially when it comes to clothing," McCarthy said.
There is a lot to learn from the CARLY consumer, and the only real way to know what they want and how to reach that demographic is by getting involved with them either through social media, personal exchanges in-store, or by email. The retail industry is always changing, so it's important to stay involved and keep learning about your shoppers.