Merling Sports, launched in 1999, is one of the largest wholesale distributors of licensed sports fan merchandise in the USA. Located in Cumberland, MD, Merling Sports is a one stop shop for sports fan merchandise, for all teams and all leagues, including NFL, MLB, NCAA, NBA and NHL. This enables retailers to order all their fan merchandise at one location for the lowest prices. The company stocks fan merchandise from several licensed vendors, including The Northwest Company, Rico Industries, Fremont Die, Little Earth, Aminco International, Simran International, The Party Animal, Boelter Brands, Hunter Manufacturing, Topperscot, Forever Collectibles, McArthur Towels, Wincraft and National Design.
Vast array of sports merchandise
Merchandise available from Merling Sports includes auto tag frames in plastic, chrome and laser, as well as blankets, backpacks and beach towels. The company also offers a wide selection of wall banners and flags for cars, poles and gardens. It carries a variety of signs, including parking, street and stop signs. Fans can decorate their cars with the firm's fuzzy dice, mini boxing gloves, steering wheel and seat covers and bumper stickers.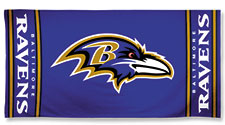 Furthermore, consumers can show their team spirit with Merling's hair accessories, which include ponytail holders, headbands, extensions and twists. For general merchandise retailers, Merling sells lanyards, carabineers, hip flasks, #1 fan foam fingers, magnetic dartboards and key chains in numerous designs by various manufacturers. Other functional items include money clips, and nylon and leather wallets in various styles. Shot glasses, thermal travel and freezer mugs, and sip 'n go cups are also available. Merling rounds out its product line with sports utility gloves, scarves, iPhone covers, zombie figurines, grill covers, umbrellas, purses, jewelry, pens, notebooks and Christmas ornaments. The company adds new fan merchandise daily.
Ordering highlights
There is no minimum order, which allows retailers to reduce their inventory costs, and provides better turnover and maximum profits. Retailers can order online at the company's website, which indicates pricing and available product quantities. All orders are shipped within 48 hours or less. "This is my personal guarantee," George Merling, president, states. "We take great pride in our customer service. Our customer satisfaction is unmatched."
Where to buy:
Merling, Inc.
100 Beall Street
Cumberland, MD 21502
Tel.: 301-729-2571
Website: www.merlingwholesale.com