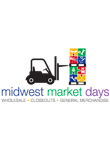 Retailers from all over the region flock to Chicago for the pleasant service and unbeatable products at Midwest Market Days® order-writing trade shows. Unlike other corporate or individually-owned trade shows, Midwest Market Days is comprised of exhibitors operating as a co-op, which means all vendors are invested in hosting a friendly, engaging, and successful show.
At Midwest Market Days, retailers should expect to be greeted by show staff. From there, retailers enjoy a comfortable and casual buying atmosphere with more than 50 industry-leading vendors across a variety of product categories including collectibles, craft, hobby, fashion accessories, giftware, home décor, party, and more. Attendees can comfortably browse showrooms with full product displays and take the time to converse with exhibitors. The laid-back environment is perfect for discovering new products and cultivating business relationships.
After closing a successful 2017 show season, Midwest Market Days is looking forward to hosting even more vendors and retailers in the coming year. Trade show manager Joanna Kastle tells Independent Retailer, "Overall, in 2017 Midwest Market Days had a 25% increase in retailer attendance for each of our May and June events." The merchandise shows are an attractive option for a variety of wholesale buyers including boutiques, convenience, dollar, grocery, closeout, general merchandise, and online retailers.
Last year, Midwest Market Days also brought on new exhibitors. The growth in attendance and dedicated members of their exhibitor family proves that "our trade show model is a good fit for the industry," says Joanna.
This year, Midwest Market Days will continue to offer stress-free buying experiences at their seven events throughout 2018. Joanna says, "Our show offers a convenient way for buyers to shop a diverse group of vendors. We've designed the experience to be as productive as possible for our buyers." To view a show calendar, exhibitor list, and to register for an upcoming show, visit www.midwestmarketdays.com.