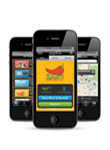 It comes as no surprise that the increasing daily use of smartphone applications (apps) and smartphone browsers has created a channel for your customers to browse, purchase and interact with products and services. As Portio Research Limited's report, "Mobile Applications Futures 2010-2015," forecasts, "The global mobile applications user base is expected to grow at a compound annual growth rate of 37 percent between 2009 and 2015 to reach nearly 256 million by the end of 2015." Embracing m-commerce could potentially market you to those 256 million users and consumers.
Mobile Loyalty and Gift Card Programs for Brick and Mortars
SparkBase CEO, Doug Hardman, a supporter of small business and independent merchants, is also an advocate of the technological advances that assist in competing with big box retailers and chain stores, and that includes m-commerce. And with the launch of his latest offer, Paycloud Mobile Wallet, retailers will be given the opportunity to embrace m-commerce through their loyalty and gift card programs. "Paycloud is the first multi-terminal, integrated mobile wallet for loyalty and gift card programs. It eliminates the need for plastic loyalty cards by directly integrating with a merchant's existing credit card terminal," says Hardman. And while it offers an additional alternative channel in which customers can interact with products and services, Paycloud eliminates fees, fear and frustration for the merchant.
Brick and mortars can easily be nickeled and dimed out of affording a loyalty or gift card program, as they are faced with the expense of plastic cards, as well as individual transaction fees with every swipe of the card.  By enrolling in Paycloud, business owners can establish a loyalty program in days and for less than $100. "We maintain flat rate pricing, without any additional transaction fees," adds Hardman. Costs will include terminal programming (using existing terminal), a sensor that plugs into the terminal to allow secure transactions, and artwork for the merchant's virtual card. Free apps allow instant enrollment, helping merchants gain more customers with less advertising dollars spent. And while the thought of venturing into the m-commerce world, something outside the brick walls of the store, can create a feeling of fear and even frustration, Paycloud requires no new technology or hardware. Hardman confirms, "There is no need to switch providers or train staff. Paycloud brings advanced technology to applications business owners are already using. It only changes the way merchants can take mobile payments; not the way they operate."
Retailers are advised not to expect instantaneous ROI, as all loyalty and gift card programs need to percolate, but repeat customers can be expected along with a fruitful program. Customers won't be faced with carrying another plastic card and will have easy access to the deals you have to offer. When customers reach the front of the line, they simply wave their phone in front of the countertop sensor to check in, redeem rewards and coupons, and track their account status. Enrolling is even easier, as smartphone users launch Paycloud on their phones, check out the merchants supporting the software and tap to enroll.
For more information:
SparkBase Inc.
Website: www.sparkbase.com