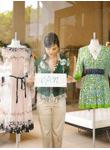 The 2011 back-to-school shopping season (second most important event following Christmas) is coming to a close, and retailers are finding it lackluster in deliverance. According to the National Retail Federation's (NRF) 2011 Back-to-School survey conducted by BIGresearch, sales were expected to be a little flat, with little change from last year's statistics. The NRF predicted, "Families with children in grade K-12 will spend an average of $603.63 on apparel, school supplies and electronics, within a few dollars of last year's $606.40 average." As a result holiday planning is now underway, according to Business Wire, and retailers are looking for different way to reach consumers and drive sales, picking up where the back-to-school season sadly left off.
Customer Connections Make Sales
While retailers typically look to appeal to traditional holiday emotions such as family, community and giving, Motista, a marketing survey organization, has released data from an ongoing retail study that details the true motivating factors behind a consumer's purchasing decision. As Business Wire reports, "Key findings in the survey illustrate that building deeper connections with consumers can help drive higher levels of purchase intent, response rates, online engagement and advocacy." A connected customer is a happy customer, an inspired customer, and a customer with needs and wants met. Are your customers thinking: my retailer simplifies my life; my retailer helps me live my life the way I want?
One way to better connect with customers is to become aware of the fact that men and women shop differently. For instance:
Retail is personal for men.
Retail is about enhancing one's identity and sense of self in the eyes of a man. Fifty percent are more likely to feel their preferred retailer makes them a more valuable person, and 53 percent of men are more likely to feel that people will see them differently because they shop at a particular retailer.
Retail is about fun and style for women.
Its all about trends, as well as fun and style for women when making a purchasing decision. Women are more likely (18 percent) to connect with a retailer they consider to follow this criteria.
To learn more about the Motisa study and the best way to engage a connected customer, click HERE.