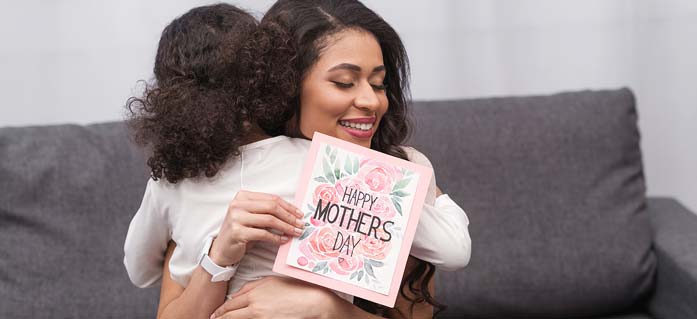 Mother's Day, one of the biggest retail holidays of the year, is just around the corner. A total 86 percent of Americans celebrate Mother's Day and spend an average of $180 per person. Last year, shoppers spent more than $23 billion on well-deserving moms, according to the National Retail Federation.
What Shoppers are Buying for Mother's Day
Traditional Mother's Day gifts like jewelry, flowers, clothes, housewares, and restaurant meals are still very popular. But, experiential gifts are gaining popularity as more and more Millennials are becoming parents. Dinners and brunches out, spa services, and concert tickets are all popular choices. However, gift cards and traditional greeting cards also steal a fair share of Mother's Day spending.
How Shoppers Buy for Mother's Day
Mother's Day is a huge shopping occasion, especially for specialty stores and local businesses. 30 percent plan to shop at specialty stores such as florists, jewelers or electronics stores. Almost 24 percent of shoppers plan to shop local stores like boutiques and gift shops, according to USA Today.
The majority of Mother's Day shopping is done in-store, especially for items like flowers, jewelry, and spa gift cards. But, about 30 percent of shoppers plan to buy online. Of those online purchases, a large percentage of them are done on mobile, particularly the few days leading up to the holiday. Criteo data reveals that the rise in mobile sales for flowers and gifts is up 1400 percent and shoppers increasingly place orders via their mobile devices the during last week before Mother's Day.
When Shoppers Buy for Mother's Day
When it comes to Mother's Day shopping, procrastination is the norm. According to Criteo data, overall sales of flowers and gifts jumped by 1200 percent just three days before Mother's Day. Even though much of the buying happens last minute, some shoppers start making their Mother's Day purchases as early as three or four weeks before the holiday. It is important to start your marketing and merchandising promotions soon so that by the time shoppers start thinking about buying, your store and your products are already on their radar.
5 Ways to Advertise for Mother's Day:
It's already March, which means it's time to kick the Mother's Day planning into high gear. No doubt your special holiday products have arrived or are on their way. Now it's time to iron out the promotional details. Some of the most popular and most effective Mother's Day marketing strategies include hosting events, email marketing, contests, and social media promotions. We talked to small business owners and marketing experts to gather creative and actionable Mother's Day advertising tips.
• Host a Mother's Day Event
Events are a tried and true sales-driver for brick and mortar businesses. Lindsay Anvik, a business coach and keynote speaker recommends hosting a "'Pamper Mom Day' or week leading up to Mother's Day. Have mini massages, champagne and treats for all customers who are moms." Take this event to the next level, and have "moms fill out wishlist postcards that can be sent to husbands or children. This way the mom gets what she wants and the dad/kids have an idea of what she'd enjoy instead of guessing."
Online businesses can cash in by hosting flash sales. Briana Marie, founder of Tanzek Media recommends offering a variety of daily online deals. "One fun way to increase revenue from Mother's Day sales is to offer exclusive deals for a set amount of time leading up to Mother's Day for followers on your social accounts, like a daily deals event. You can include a giveaway, a discount code, freebies, etc. This method helps to build the excitement around your brand. It can also encourage users to shop with you if they had not done so in the past."
To promote sales, both offline and online, use video content. Pamela Guerrero, owner of Binary Digital Media, says "Use Video to discuss sales, products and services for free posts on social media. You can run promoted posts on Facebook using just a few dollars a day to reach people in your neighborhood."
• Use Free Email Marketing Tools
Email marketing is another tried and true marketing tactic for both online and offline retailers. It's especially effective with Mother's Day shoppers who are looking for gift-giving ideas and inspirations. MailChimp has a free version with automation options tools that help you to create professional and personalized messages. Email is the most effective marketing tool for retailers, with 77 percent of people preferring email content over text messages and social media content, and 77 percent of shoppers also opening retail emails just for the enclosed promotions.
• Hold a Themed Contest
Contests are fun, engaging, and make it easy to draw a crowd. For online sellers, Matt Erickson, Marketing Director of National Positions recommends hosting a giveaway on your social media platforms that requires participants to like your page, share the contest with friends by tagging in the comments, etc. "This can help boost interest and increase engagement for your brand, while in turn offering fans, followers, and prospects an opportunity to score big. Give a little – get a lot! Promote the giveaway directly on your website with an image or banner of some kind on your homepage."
Brick and mortar retailers can do something as simple and effective as a gift basket raffle, with shoppers receiving a ticket entry for every $25 spent, or a classic guessing jar. Retailers can also get creative with more thematic event like a floral arrangement contest.
• Make the Most of Social Media
Jeff Moriarty owns a small jewelry store in the Midwest that he says always does particularly well around Mother's Day. He says one of the easiest ways to increase sales during that time is "through Facebook advertising targeting parents in your area. Facebook makes it so easy to do so. It should only take about 20 minutes to create a nice ad. We normally target parents in a 10 mile radius around our store with pictures of specific items we have for mother's day. It starts at the beginning of May and we let them run through the day before Mother's Day. Quick and effective."
If you're not sure what kind of ad to run, put together a gift guide outlining gift options for different kind of moms or family members. You can either post the ideas directly in the ad, or collect emails and send it out through a newsletter.
• Partner With Other Local Businesses
Jonathan Gorham, founder of Engine Scout, recommends forming a referral network with other non-competitive local businesses. Jonathan says, "For example, if you run a gift store you can reach out to a chocolate or flower shop and discuss the idea of a referral system where you recommend each other to customers. These 'shoulder businesses' often get asked by customers for recommendations and because you're not a direct competitor, your partners will be happy to recommend you, it's a win-win for everyone. You could even take it a step further by offering 10% referral fees to really get the ball moving with your partnerships"