By IvyLee Rosario
Plants have always been seen as a quick and thoughtful gift item, something that symbolizes growth and love because it requires care to reach its peak. What if there was a plant that not only grew but also was able to "tell" the gifted exactly how the person who gave it to them feels? Known as Nature's Greeting Card, the Patent Magic Plant is the perfect way of evoking emotion in a new and unique way. With messages such as "I Love You," "Happy Birthday," "Thank You" and "Congratulations," the customizable options are endless. "We started out in 2006 and developed a few unique items, the magic plant being the first," said Erez Hadad, owner.
The process of the magic bean plant is to treat it like any other greenery one might have in their home, plant the seed and water it. Then after a span of three to ten days, the message will start to appear and with routine care, will bloom within a week or two. "The magic plant is perfect for a gift because you can customize it for whoever you want to give the plant to," said Hadad.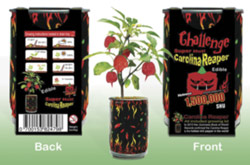 In addition to growing your own greeting card, Patent Magic Plant also offers several other perfect gifts for garden lovers. There is the Lotto Plant — which works in the same way but instead of a greeting — the plant displays seven engraved numbers to try your luck at winning some money. Flower growing kits, herb growing kits with options such as Lavender, Rosemary Basil, Sage and Parsley, and the ever popular Chili Pepper growing kit perfect for the spice connoisseur. These can be grown all year round and come in a variety of choices including the Trinidad Scorpion Pepper, Ghost Chili, Carolina Reaper, Moruga Scorpion, Chocolate Peppers and Chili Pepper. According to the Guinness book of world records, some of these have been named the hottest chili peppers in the world. "We have a line of almost 60 different items and they have all proven to sell great in stores," said Hadad. "We started the different chili peppers option three years ago and it is still one of our most popular selling products."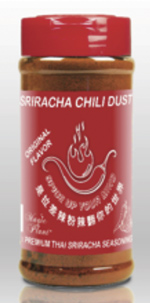 Not only does Patent Magic Plant have success with selling plants, they have also dived into making seasonings. Their newest introduction to the line comes in the form of their Sriracha Powder. The in demand sauce, which can now be found at most popular restaurants and in grocery stores alike, has been transformed into a powder blend. Made with red chilies, garlic, vinegar, salt, and sugar, the company guarantees their seasoning will bring the much sought-after Sriracha flavor straight to your kitchen. "We got the idea because we all love Sriracha and it is so popular so we thought why not do it in a dry form," said Hadad. The powder ranges from Mild heat, to hot, super hot, and extremely hot. Whether wondering if plants or seasonings will find the most profit in your area, why not invest in a company that offers variety? The Patent Magic Plant ensures quality and uniqueness in their items, making them the perfect gift.