By Kevin Zimmerman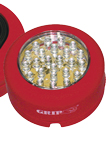 "Customers for Life" is one of the key phrases at tools specialist GRIP. Indeed, the firm – whose name is an acronym for "Grand Rapids Industrial Products" – prides itself on its ability to work tirelessly for its customers in a mutually beneficial manner. "It is a humble way of doing business," says national account manager Cameron Brown. "Our message is that we do not take anything for granted. We keep pushing to provide the innovative products for which we are known, and we keep in mind that our customers are trying to make money as well."
"We value every piece of equipment that we sell," he adds, "just as we value every customer, whether it is a new buyer or someone we have been dealing with for years." Incorporated in 1980 by Charles Amash, GRIP today is one of the Midwest's leading suppliers of tools and general merchandise, housing a product line of over 1,500 specialty hand tools, household items, automotive, air tools, wood working, and other items in its 200,000 square foot warehouse facility near Grand Rapids, Michigan. "We try to come up with at least five to ten new items per year," said Elias Amash, President.
In addition to the expected hammers, screwdrivers, wrenches, pliers and the like, GRIP is also currently seeing strong sales in its LED flashlight category, Brown says. Its line ranges from two- and five-piece LED light sets to a 72-LED light bar, versatile enough to provide adequate illumination during emergency roadside repairs, during power outages, or for a variety of uses around the home, garage or workshop. A growing category is its camping line, which Brown says, "has been evolving pretty significantly."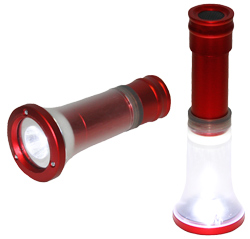 "We are always looking for niche ways to stay relevant," he notes. "We do not want to just compete with the large manufacturers, since the hand tool market is so saturated." Showing particular strength in the segment is its pair of telescopic camping forks: Designed as an optimal accessory for any nature outing, the standard two-pronged and deluxe triple-pronged, stainless steel forks provide cleanable, safe ways to cook over campfires without burning clothes or hands; their double-dipped rubber grip handles extend from 11 to 34 inches. "We are always trying to produce innovative and new products," said Amash. "It is all about having new and exciting items and we are constantly looking for ways to offer something fresh to our customers."
A glow-in-the-dark model provides additional illumination, while GRIP also offers a number of novelty telescopic items, from flyswatters (extending from 10 ½ to 34 inches) to back scratchers (6 ¾ to 22 inches and 8 to 26 ½ inches). Customers from Florida and Texas to Montana are able to utilize such tools well beyond the "traditional" summer months in other areas; during the cold months GRIP sees an uptick in flashlight and hand tool sales.
Over the coming months, the company expects to expand its line of ratchet tie downs, which currently range from single to four-piece models that can encompass one-inch to 15-foot loads, and can bear loads of up to 1,500 pounds. "We offer same day shipping and have a 95 percent in stock ratio," said Amash. "We always make sure we take care of our customers and give them the products they want." Although GRIP enjoys a solid reputation, the company is always looking to attract new customers via advertising, trade shows and sending samples to both prospective and established buyers. "It is always nice to have our products there right in front of them," Brown says. "We have found that method, along with our versatile and evolving catalog, are really effective ways of competing with the big-box stores."