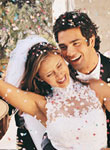 The fact that organizing a wedding can seem overwhelming is something that keeps wedding planners in business. From choosing the right dress to finalizing the venue, there are services available to help in every conceivable way. When it comes to planning out their gift registries, brides have turned to Knackregistry.com and found the flexibility to register for the gifts that they find most meaningful to them, by eliminating the need for a bride to pick specific stores. The site lets brides choose what they want from anywhere in the world, and now, the site has gone social.
Helping Retailers and Shoppers Tie the Knot
Introducing a new social product feed, the site now allows brides to see what friends and other brides add to their Knack registries. With the What's Hot Product Feed, registrants can add social context to their items by linking them to their social networking pages. Rather than be forced to create multiple registries at multiple big box stores, brides are able to manage everything they want through the universal online registry. Independent retailers and small businesses who were previously left out of the bridal registry loop can take advantage of this new opportunity to attract a global audience, by becoming a Knack partner. One Knack customer, a bride who had a destination wedding overseas, left a testimonial on Knackregistry.com saying, "With people traveling from all over the world to join us in Sweden, Knack made a lot of sense from a logistical standpoint, for both us and our guests. We were able to pick the things that we liked and get them at our leisure." The word is permeating the bridal industry, and retailers are jumping on board.
With the new What's Hot Product Feed, visibility for Knack participants is now reaching new heights. "The rise of pinterest has powered a shift from search to discovery, and Knack is an example of a new breed of social shopping that proves the user with a platform to define their taste and style," Knack said in its press release. In the movement to support independent businesses, Knack is making strides. The new product feed feature testifies to today's customers having a greater desire for personalization and timeliness, and independent retailers have a unique opportunity to provide both.