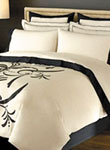 TriVesta Linens LLC is one ambitious five year old. The family owned and operated wholesaler is a member of the Better Business Bureau, with an A rating, and because TriVesta owns its own warehouse, the company is able to be very flexible with same day shipping. "We don't have our hands tied by public warehouses and separate handlers," says Eddie Jordhoy, sales manager. "We do our own shipping, and have control over how our product moves."
Where most of TriVesta's competition offers premixed cases of sheets of each color, TriVesta makes every effort to help its customers. Aware of the fact that neutral earth tones sell more quickly than a vibrant orange, and retailers end up with colors they can't sell, TriVesta allows buyers to choose their own colors, and only keep in stock the products they know will move quickly to generate the most profit. The best selling products are cream and dark cream linens from the 1500 series. TriVesta is bringing in duvet sets, blankets and comforters this month, in time for the holiday season. Suggested retail for TriVesta sheets is between $40 to $50. Wholesale rates are available upon request, and there is an array of product and shipping discounts based on purchase volume, beginning with half pallets of 18 cases.
Business has more than doubled in 2012, as compared to the same period last year, and Jordhoy attributes this dramatic uptick directly to the company's new ecommerce marketing tactics, employing partners such as Groupon. "We're very active with ecommerce deal programs, and it's helped us immensely," Jordhoy states. "We started with Groupon a year ago, after one of my customers did a local Groupon in Florida and sold about 1,500 units in one day. We were impressed by that, and decided to become more active with direct ecommerce, and it's helped us expand our business into Canada."
For resellers, the important thing to be aware of is that TriVesta products do not have a brand name on them, so it's difficult for consumers to determine the exact source of the sheet. Because of this, if a reseller's customers try to go around the middleman and get direct access to the source, they can't do it. "It helps our customers keep their own customers," Jordhoy points out.
For more information:
TriVesta Linens LLC
4021 Ball Ground Hwy, Ste. 100A
Canton, GA 30114-7311
Tel.: 770-345-4766
Website: www.TriVestaLinens.com