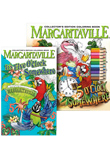 Newbourne Media's "Color With Music" and "Color Your Way To Calm" adult coloring book series are designed to enhance the calming and relaxing experience of coloring. Coloring books for adults, or sometimes referred to as "Grown Up" coloring books, are surging in sales and dominating bestseller lists. Research journals highlight the many benefits of coloring, including stress relief and relaxation. Newbourne Media's two different series of coloring books have innovative and unique features that set them apart.
Harris Sterling, EVP of strategic marketing and business development for Newbourne Media tells Independent Retailer, "Both our 'Color With Music' and 'Color Your Way to Calm' series are more than just a coloring book. All "Color With Music" titles include a music CD and each "Color Your Way to Calm" book includes colored pencils. Almost 100 percent of the coloring books on the market today are just coloring books. We wanted to give the customer something different through an added value component."
Additionally, their products are "Designed to enhance the coloring experience for consumers, as each title has a protective inlay card – which acts as a tablet for a smooth coloring surface while protecting the sheets beneath from any marks or indents, a top-bound binding which makes our coloring books perfect for right handed and left handed artists and detachable pages for easy framing and sharing," continues Sterling.
Coloring books and adult coloring books are a great addition for back to school. They encourage family bonding as parents can sit down and color with their kids as they complete homework. The relaxing music included in the "Color With Music" series promotes mental focus and a positive work environment. Sterling says, "Music has for many years helped to facilitate a calm and tranquil environment. Now, we just brought the two elements together with our 'Color With Music' series."
Adults, parents, children, and students alike can all benefit from coloring. "Coloring is a way to train yourself to focus on the task at hand and live in the moment, which can help you forget about your worries," continues Sterling. "Coloring allows you to express your inner creativity without stressing about not being creative. It can help improve fine motor skills and hand eye coordination, and more."
Sterling tells Independent Retailer that Newbourne Media is the number one independent book publisher selling coloring books with added-value components. They are constantly adding new products and licenses including their recently released Margaritaville coloring book line.