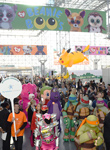 The 114th North American International Toy Fair will take place February 18-21 at the Jacob K. Javits Center in New York City. The show is hosted by the Toy Industry Association (TIA), a not-for-profit trade association that represents all businesses involved in creating and bringing toys and youth entertainment products to kids of all ages.
Toy Fair is a trade-only event that spans 440,000 net square feet, offering retailers countless opportunity to discover innovative toy and game products. Marian Bossard, senior vice president of global market events at TIA, says, "The number of international exhibitors at the Toy Fair this year is incredible – we have exhibitors from more than 60 countries coming to showcase their products." Exhibitors from Canada, the U.K., Singapore, Taiwan, Poland, France, Italy, and more will be present for the show. There will be a dedicated "Launch Pad" area for first-time exhibitors, so buyers can easily discover never-before-seen products.
"First-time attendees can easily become overwhelmed at all that Toy Fair has to offer them," says Bossard. "The show is one of the largest in the United States but is truly a valuable opportunity for buyers and store owners to check out the new and innovative toys and games that are coming to the market. It's also a great place to network with industry peers." Toy Fair also offers Knowledge Network seminars covering all things that can help retailers grow their business.
Specifically for independent retailers, Toy Fair offers an Independent Thinking track filled with engaging, hands-on educational sessions. Bossard explains, "In the first session, 'How to Harness the Genius of Play to Supercharge Your Specialty Toy Store Business,' retailers will learn how to embrace and promote The Genius of Play, TIA's researched-backed initiative to bring more play into kids' lives, in order to increase sales. The second session, 'Connecting Brands with Retail Toy Buyers in a Networked Economy,' will share how the retail-buying industry is moving to online/mobile strategies. Buyers attending this session will learn how to discover and connect with products and suppliers in a digital world."
Each year at the show, TIA trend specialists host a "Toy Trends Briefing," which gives buyers and the media an exclusive first look at the top toy trends of the upcoming year. "We are keeping this year's hottest trends under wraps until then," says Bossard. "However, our trend specialists are noticing several overarching themes, including many more product licensing opportunities given the slate of family-friendly movies coming to theaters in 2017. Trends from social media are also making their way into the toy aisle, such as micro-videos, the emoji craze and other user-generated content taking the form of toys and games. That said, never underestimate the power of traditional play, which will still be a big component at Toy Fair."
More than 30,000 buyers and 1,000 exhibitors will gather at the Javits Center for the 2017 Toy Fair event. Bossard highly recommends retailers register in advance. Through the website, attendees can also track up-to-the-minute details about Toy Fair happenings, exhibitor listings, educational sessions, hotel reservations, and more. There is also the free Toy Fair mobile app, available on iTunes and Google Play. After registering, retailers can check out products that will be showcased at Toy Fair via TIA's online B2B marketplace, ShopToys365.com. Registered Toy Fair buyers can connect with exhibitors and conduct business before, during, and after the show.
For more information and to register, visit www.ToyFairNY.com.
Toy Fair New York

Toy Industry Association
February 18
th
– 21
st
, 2017
Jacob K. Javits Convention Center
New York, NY 10001
www.ToyFairNY.com