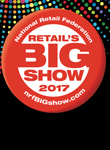 Nearly 40,000 retail industry professionals, including representatives from over 3,300 retail companies, 94 countries, and 50 states gathered at the Javits Convention Center in New York City last month for the annual National Retail Federation conference known as Retail's BIG Show. This year, Retail's BIG Show, or NRF17 provided conference goers with over 510 exhibitors and 300 speakers throughout its three-day operation. So, what are the biggest takeaways from NRF17? Independent Retailer breaks it down:
Disruption in Washington, Disruption in Retail
On Monday morning, NRF president and CEO Matthew Shay addressed the conference, expressing the NRF's views on the political, technological, and human state of our industry. He took extra time to discuss the "disruption in Washington," as something "we haven't seen in generations." The NRF is optimistic and passionate about opportunities for federal tax reform. "There is not another industry that is as enthusiastic as the retail industry when it comes to tax reform. Retailers currently pay the highest corporate tax of any industry in this country," Shay explains. However, he cautions the audience on the implications of President Trump's proposed taxes on goods imported into the United States for resale or assembly. Obviously, retailers import large quantities of goods from overseas to keep costs low and prices competitive. He explains "These potential new costs [from the import tax] can't be borne by retailers; they're going to be passed on to consumers. That is a radical departure from the current tax system, and one that many feel would be disastrous for their business structure and marketplace."
However, Shay continues, "The disruption in Washington pales in comparison to the disruption we are seeing in our industry. We are seeing rapidly changing technologies and higher consumer preferences and expectations." He continues that "Experiencing that sort of disruption and finding solutions for those challenges is exactly what this show is all about."
Innovation Lab
The Innovation Lab is precisely what NRF president Shay was talking about when he said NRF17 is a showcase for disruption and finding solutions. What was once a small corner tucked away in the exhibitor floor has moved to center stage of the NRF show. This year, the Innovation Lab brought us 3D printers that can print customized garments on demand, augmented reality store displays and windows that are the ultimate blend of physical and virtual, wearable technology, 3D body scanning technology for personalized product recommendations and fitting guides, smart fabric, and of course: robots. Pepper, the humanoid, emotion-reading robot owned by SoftBank is making its way into the retail industry. The four-foot artificial intelligence robot has already made appearances working at retail stores in Asia and Europe. Pepper uses voice, text, and facial recognition to interact with shoppers. According to SoftBank's representatives, the main purpose of Pepper is to drive traffic and engagement into stores while delivering consistent information and brand message. SoftBank doesn't see Pepper as replacing human sales associates but rather serving as an intermediary to boost interest and engagement in brick and mortar retail stores.
"The Future of Retail isn't What – It's Who"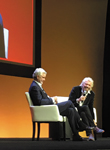 Shortly after opening the show on January 15th, NRF held a press conference announcing their new RISE Up initiative. RISE (Retail Industry Skills & Education) Up is a training and credentialing initiative designed to help people acquire the skills they need to secure successful jobs in retail regardless of education, background, economics, or age. RISE Up starts with entry-level industry fundamentals such as customer service, retail math, technologies, inventory, and interview skills. The training can be completed online or in classrooms and will be available through a variety of public education and nonprofit partners. Retailers can also utilize the program directly for their own new or existing employees. Mindy Grossman, outgoing NRF Foundation board chairman, and incoming NRF board chairman explains, "The retail industry's greatest asset is the energy and talent of its workforce, and RISE Up will give more people the skills and knowledge they need to start successful careers in this dynamic field. RISE Up… will help bridge the skills gap between job-seekers and the diverse opportunities offered by a career in retail." Especially for independents, training can be expensive and time-consuming. The ability to hire employees already certified in basic retail skills could help significantly streamline the hiring and onboarding process.
"You Need a Perpetual Revolution Inside Your Company"
Disruption was the key word of this year's NRF BIG Show. Sir Richard Branson, founder of the Virgin Group held a fireside chat to discuss "Undying Brand Engagement in an Age of Continuous Disruption and Reinvention." He encourages retailers to keep moving, keep innovating, and to keep pushing boundaries. In this age of disruption and innovation, "People who own retail stores shouldn't think of themselves as forever being retailers," he explains, "Be entrepreneurs." Branson explains that "you need a perpetual revolution inside your company," and that you should not be afraid to try new things, work outside of the box, or to try things that people haven't done before. He explains that if you don't try something, someone else will. Even if it does not work out, "failing is the best way to learn," and to keep moving forward. Branson says this mentality of being engaged and innovative is especially important for small and independent retailers. Branson continues that his small business was able to flourish "By being better than them… and by being cheeky."
For video recaps, information on RISE Up, and more visit nrfbigshow.nrf.com/recap.