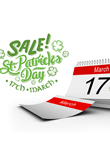 According to the National Retail Federation, consumers plan to spend over four billion dollars on St. Patrick's Day, with adults 25 – 44 years old spending over $40 each. Though St. Patrick's Day isn't a huge gift-giving holiday, many consumers will shop in preparation for celebrations with friends and family. "Retailers expect to see a nice boost in sales as consumers head to stores looking for apparel, decorations, food and beverages to help make their St. Patrick's Day celebrations special," NRF President and CEO Matthew Shay says. "With the winter holidays behind us and spring flowers starting to bloom, St. Patrick's Day provides a perfect opportunity for Americans to get together to celebrate with friends and family."
With the holiday just around the corner, what can independent retailers do to get in on the holiday spending action?
Run a Promotion
Holiday promotions are by no means a new concept. However, they are popular because they work. If you're a brick and mortar retailer, offer a discount to customers wearing green. Prosper Insights and Analytics released a survey indicating that of those celebrating St. Patrick's Day, more than 80 percent will be wearing green, meaning many customers will be able to take advantage of your offer. Additionally, offering a discount on green products can help boost your per-ticket sales. Shoppers will be looking for festive items; so offering a flash sale will help close larger purchases.
Show Your Spirit
Show your store's spirit by putting up simple decorations and having your staff wear green. Offer festive gifts like shamrock necklaces, temporary tattoos, or other fun accessories with a minimum purchase. Shoppers will be looking to celebrate on this stress-free holiday, so join in on the fun with these low-cost, high-impact products.
Get Involved
Many towns have some type of event for St. Patrick's Day, whether a parade, pub-crawl, or Irish festival. Find out what events are going on in your surrounding area and get involved. Depending on what activities are going on, consider donating raffle prizes, becoming an event sponsor, or setting up a booth with crafts or product sales. Customers will appreciate your community involvement. Neighborhood events are also a great opportunity to connect with other local businesses, organizations, and influencers.
"St. Patrick's Day is a time for inexpensive and fun celebrations that make it easy for consumers of any age and on any budget to take part in the festivities," says Prosper Insights and Analytic's Pam Goodfellow. "Whether they're heading to a parade, cooking an Irish meal or joining friends at a bar or restaurant, consumers will take the opportunity to get festive and celebrate." No matter what you decide for your business, remember that St. Patrick's Day is all about having fun. Sláinte!