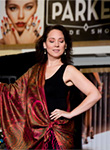 Parker Trade Shows is gearing up for their September show, held September 16th – 18th at the San Antonio Event Center. Parker Shows are boutique cash and carry events that focus on providing a variety of quality products to retail buyers, with a particular focus on their local area. Just in time for retailers to stock up for the holiday season, Parker is gathering a wide assortment of accessory, gift, footwear, home décor, and beauty product exhibitors. The shows also have a keen awareness for upcoming trends in jewelry and apparel. With approximately 150 vendors, Parker Trade Shows provides a welcoming, intimate environment for buyers. The outstanding quality of the vendors and merchandise allows buyers the selection and choice otherwise only seen at much larger shows. "We compete on a national level," says Rock Jacobson of Event Show Management, parent company to Parker Trade Shows. "San Antonio is the 7th largest city in the country. Our thought is if we are in one of the top cities we should have one of the top shows in the country. When people need inventory we want them to think Parker first."
New for this year, Parker has sectioned their show floor by merchandise category, making it simpler for buyers to find their preferred merchandise. "We are expanding in every direction and we want to stay organized," explains Jacobson. Though Parker is constantly bringing in new exhibitors to give their buyers the best selection, retailers can also count on seeing familiar faces. "We have one of the highest retention rates for vendors," explains Jacobson. "We've strived for a long time to bring in the best in the industry. Our core group of vendors continues to bring in the hottest trends season after season."
In addition to offering a large selection of in-demand products, Parker wants their events to be fun and memorable. "We focus on providing a great experience," says Jacobson. To help achieve this goal,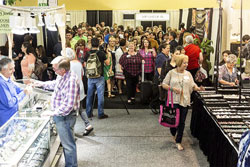 Parker Trade Shows recently added a balloon drop to their events. "We really wanted to do something that would excite people, create an experience everyone would remember, and encourage them to come back," says Jacobson. "We dropped 750 balloons with prizes attached to them at the end of the show," he explains. Prizes included Parker Trade Show bucks that can be redeemed at the show, free drinks at the lounge bar, and more. All buyers at Parker Trade Show events also receive complimentary valet parking.
Qualified buyers can plan their visit to the San Antonio Event Center this September 16th – 18th to beef up inventory with new trends and bestselling products this holiday season. Parker also hosts a November event, so retailers can spread out their holiday purchasing and restock before the big Black Friday weekend. To avoid lines, retailers can mail in or email their credentials in advance. An admission badge will then be mailed for speedier entrance. Parker also works closely with all of the hotels in the area to negotiate low rates.
For more information including advanced registration and hotel deals, visit www.ParkerTradeShow.com.
Upcoming Dates:
September 16th – 18th,
November 18th – 20th.