by Jojo Roy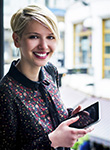 Today's consumers want to do what they want, when they want, wherever they want. They want a borderless retail experience — one that can adapt to their needs and whims. In fact, ninety percent of consumers expect the lines between physical store, online, mobile app, and phone support to be invisible. If consumers don't have this type of borderless experience, it can damage your brand's reputation and break down the lines of trust.
Retailers that don't evolve can leave consumers feeling detached. Recent surveys have shown that over one-third of consumers see a disconnect between their online shopping experience and their in-store experience from the same retailer. Consider your own web site and compare it to your in-store experience. Are they similar? Do they have a similar look and feel? Consumers crave a similar brand experience regardless of the channel they are using to shop. Retailers who implement an omnichannel strategy and ensure consistent information across all channels can not only improve customer satisfaction, but also create loyalty. Those same surveys cited earlier also point to a statistic stating that seventy-nine percent of consumers are more loyal to brands that have similar online and offline experiences.
First Impressions Are Digital
A key data point for retailers to consider is that fifty-two percent of millennials' first impression of a brand is digital. In addition, one out of three consumers are introduced to a brand through their smartphone, so your store is literally in their hands from the beginning. Just as you take pride in creating an exceptional impression when customers walk into your store, that same pride needs to go into your web presence. To successfully create a borderless retail experience, consumers need to feel that a store's online presence and physical location are seamlessly connected. For example, if you incorporate a certain palette of colors and choice of fonts in your website, use these same colors and fonts in the in-store signage placed around your store. Creating as close a proximity in style in both in-store and online will help create the borderless experience.
Clean Up Your Information
More and more these days, instead of automatically heading into stores, consumers consider the advantages and drawbacks of shopping in-store versus online. This means it is imperative that pricing and merchandise is the same in all sales channels. Forty-eight percent of shoppers say from their experience, pricing differs between the two. With sixty percent of millennials researching or browsing retailers' offerings online before going to the store to make a purchase, information and marketing needs to be unified.
Consumers' Expectations Have No Boundaries
Ninety percent of consumers expect to be able to ask questions and return a product wherever it's convenient for them, regardless if it was purchased online or in-store. Even though they may choose to interact with a brand online, seventy-five percent say face-to-face communication is still important to them. Consumers' expectations have evolved, and they expect brands to adapt. By putting yourself in the consumer's shoes and focusing on high levels of service, retailers can provide consumers with the borderless shopping experience they want.