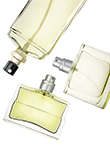 Perfume Center of America (PCA) is a global leader in fine fragrance and health and beauty distribution. A customer-oriented wholesale distributor, PCA recently relocated to their new efficient and environmentally friendly facility in Ronkonkoma, NY. The new building occupies over 250,000 square feet and features over 2,600 solar panels that offset almost 95 percent of their carbon footprint.
Now more than ever, consumers are environmentally conscious. Business and manufacturing practices play a role in where shoppers choose to spend their dollars. PCA strives to be an industry leader, focusing on customer service and meeting the demands of the changing retail industry. Their products sell well in travel stores, drug stores, pharmacies, off-price retailers, and e-tailers. More than just fragrance, their product offerings include designer brand name fragrances, professional hair care, skincare, and cosmetics. Their designer brands include Hugo Boss, Escada, Christian Dior, BVLGARI, Versace, Fendi, Giorgio Armani, and Hermes. In addition to reducing their environmental impact, their new building will allow PCA to expand their manufacturing efforts and launch new licensed brands.
For more information, visit www.perfume-center.com.